Fried Ice Cream is a frozen ball of ice cream, coated in egg whites, vanilla wafers, cornflakes, and cinnamon, deep-fried to a golden brown. Check out my other No-Bake Desserts, too!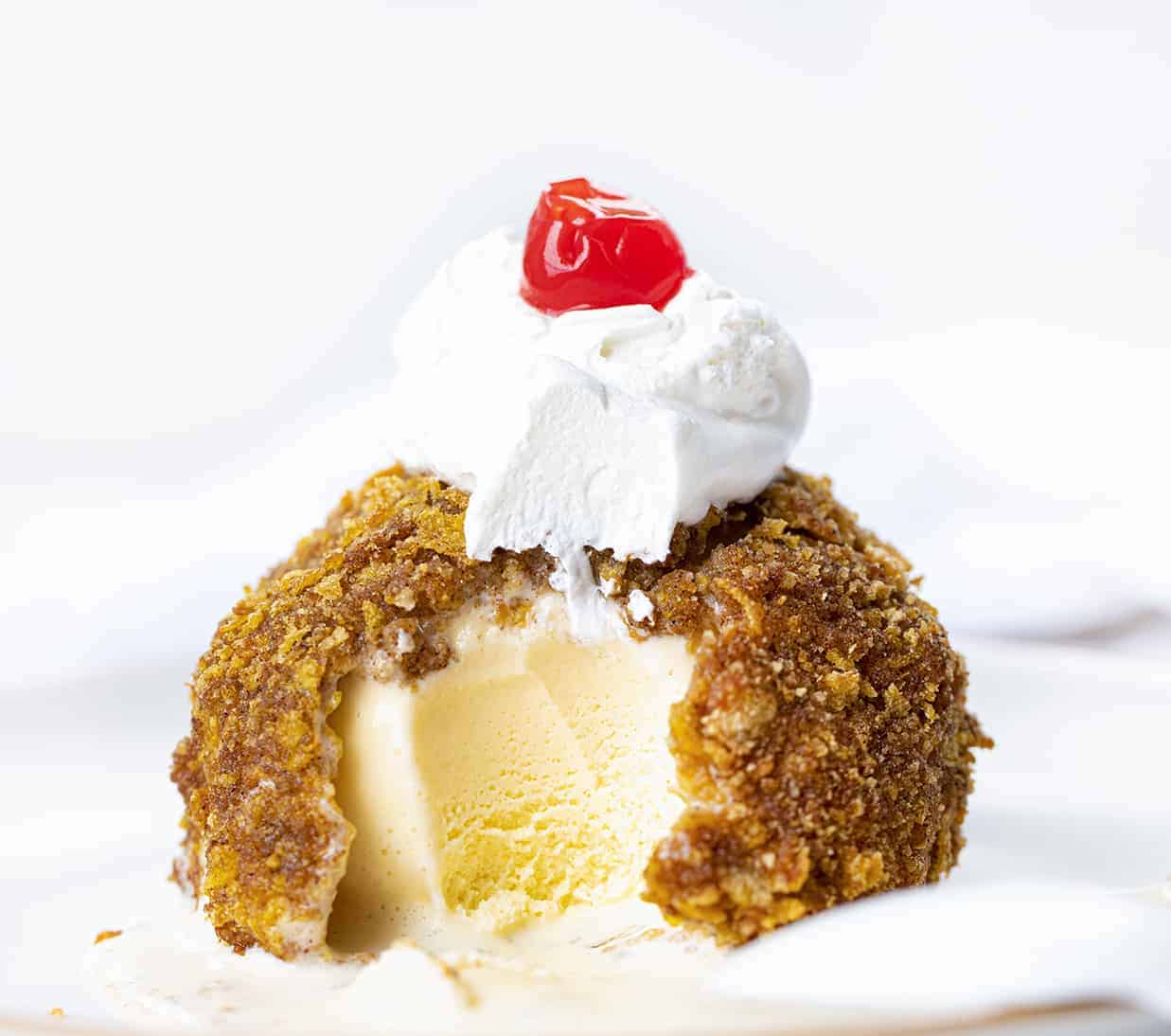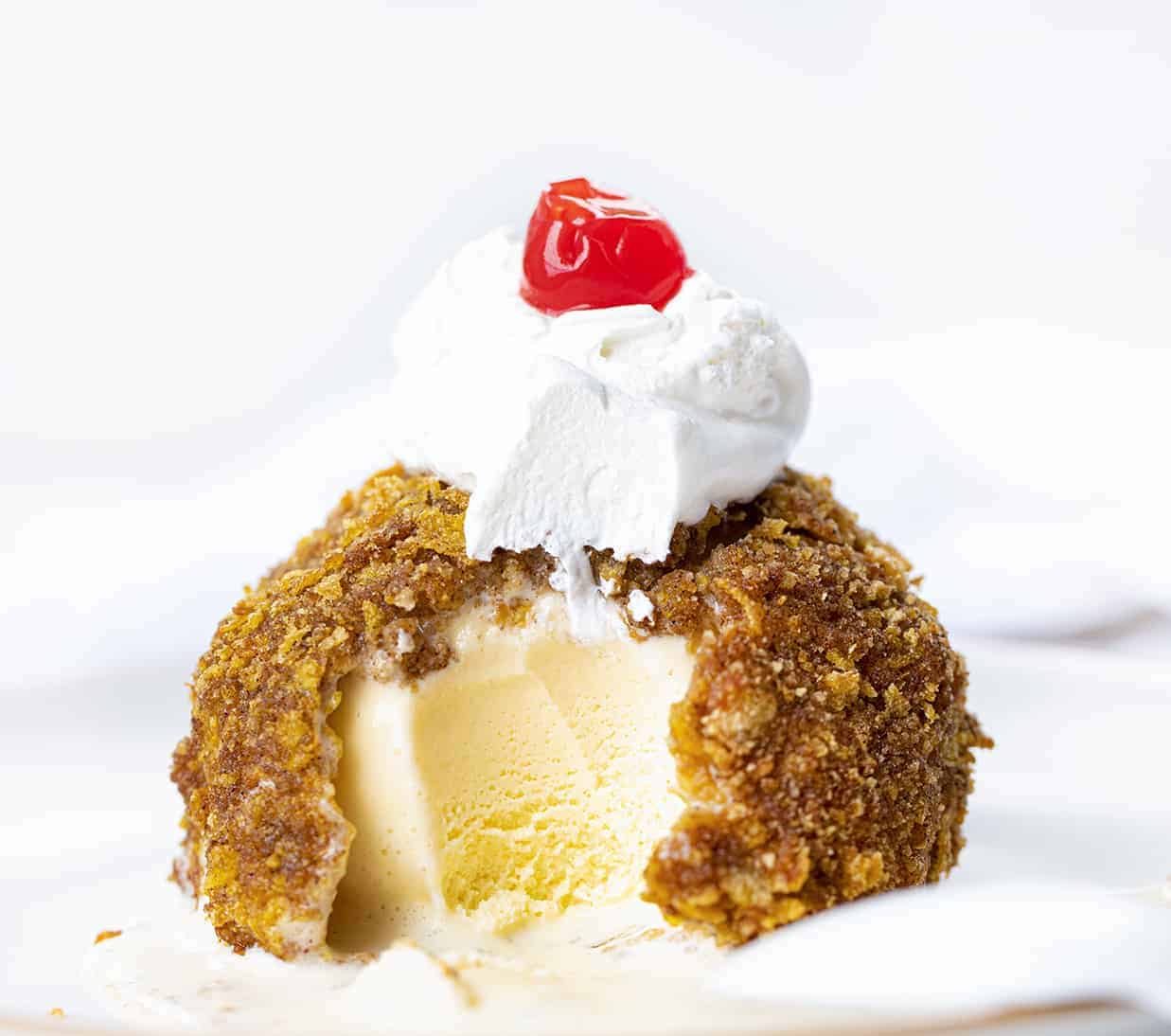 Fried Ice Cream
Fried Ice Cream became a popular dessert in America because of Chi Chi's restaurants. The origin of the dessert is debatable. But, no matter who first introduced it, one thing we all can agree on is how delicious the dessert is! It is vanilla ice cream that is coated in a crispy shell and fried in oil. And, don't forget to add some toppings like whipped cream, chocolate syrup, and caramel sauce, just to name a few options!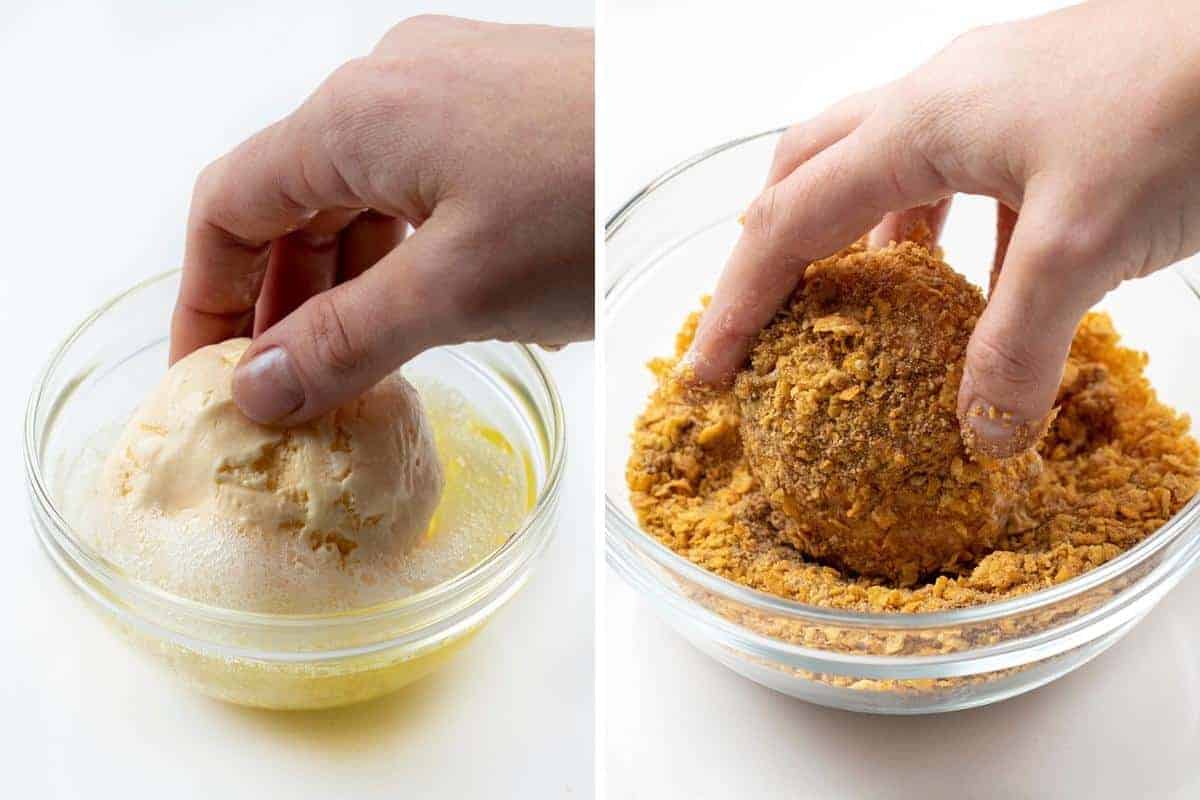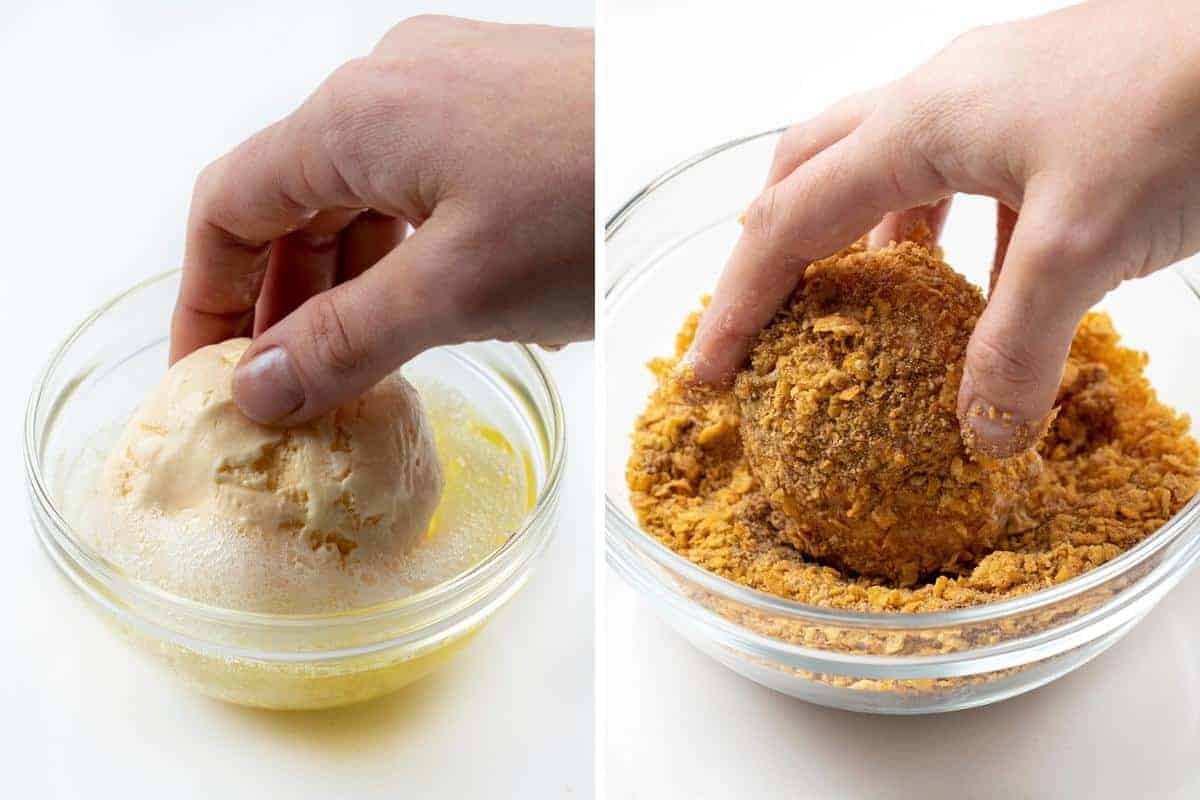 Ingredients
Ice Cream: I used vanilla ice cream in this recipe. But, you could use your favorite kind!
Eggs: Whisk together the egg whites to cover the balls of ice cream before adding the coating to help it stick.
Coating: Vanilla wafers, cornflake cereal, and cinnamon are mixed together to use as the coating.
Oil: Vegetable oil works great for frying.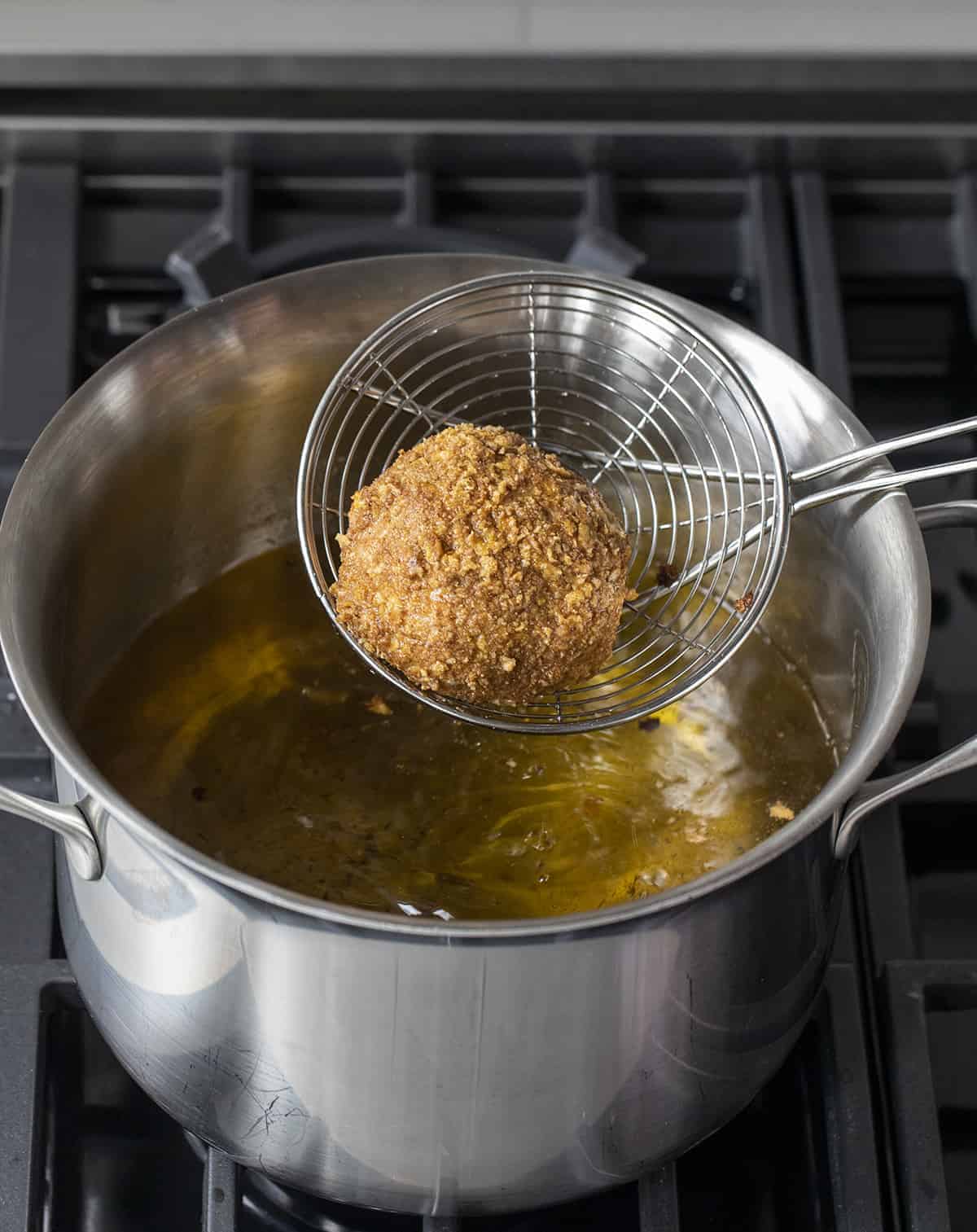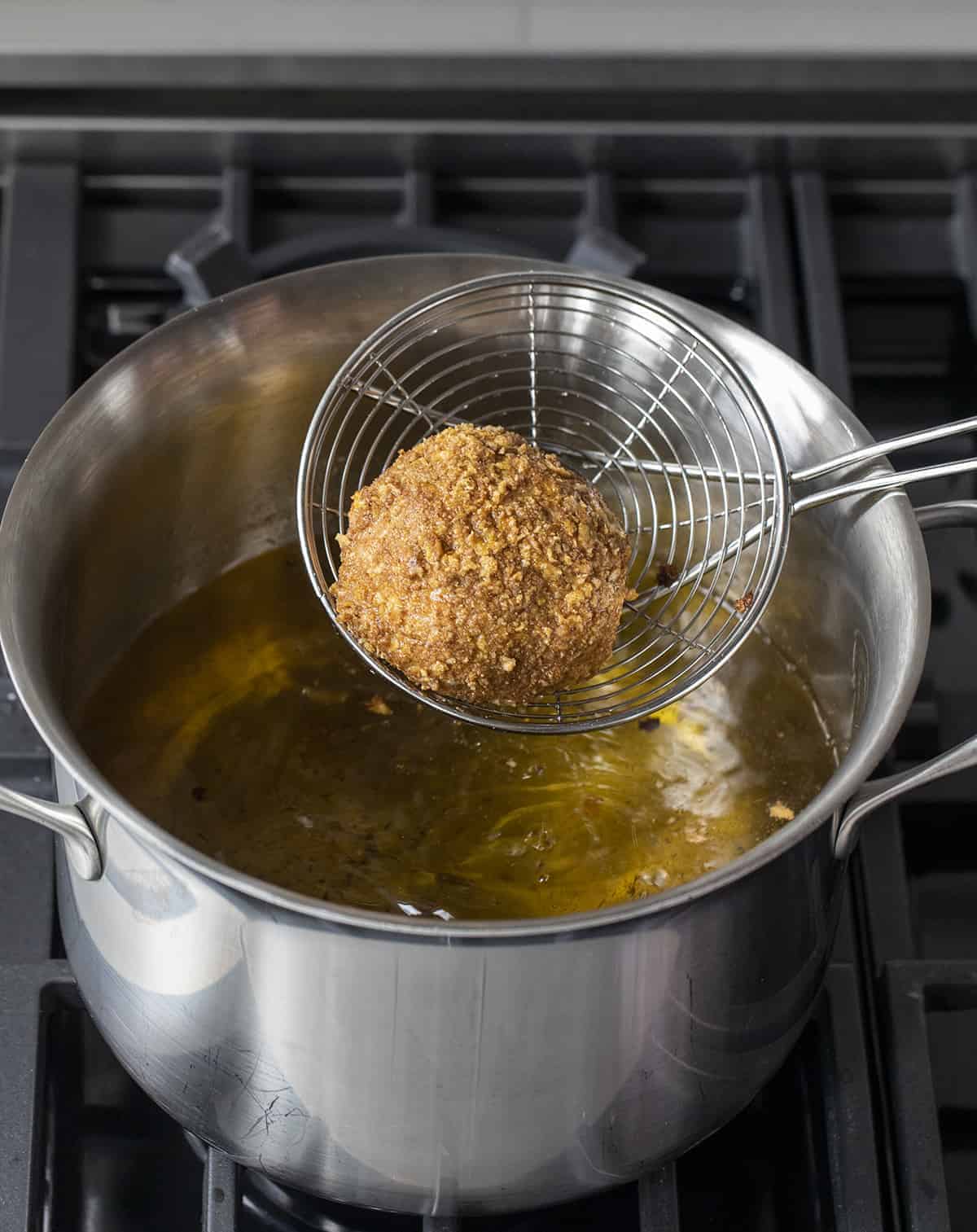 Will the Ice Cream Melt?
The ice cream is fried in oil and does not melt! How does that happen? Well, freezing it twice helps solidify and ice up the ice cream even more. In addition, be sure the balls of ice cream are large enough to withstand the few seconds in the hot oil.
Can I Use Other Flavors of Ice Cream?
Yes! The fun thing about this treat is that you could try it with many other flavors of ice cream. Don't limit yourself to just vanilla! Let me know if you tried another flavor and how it turned out.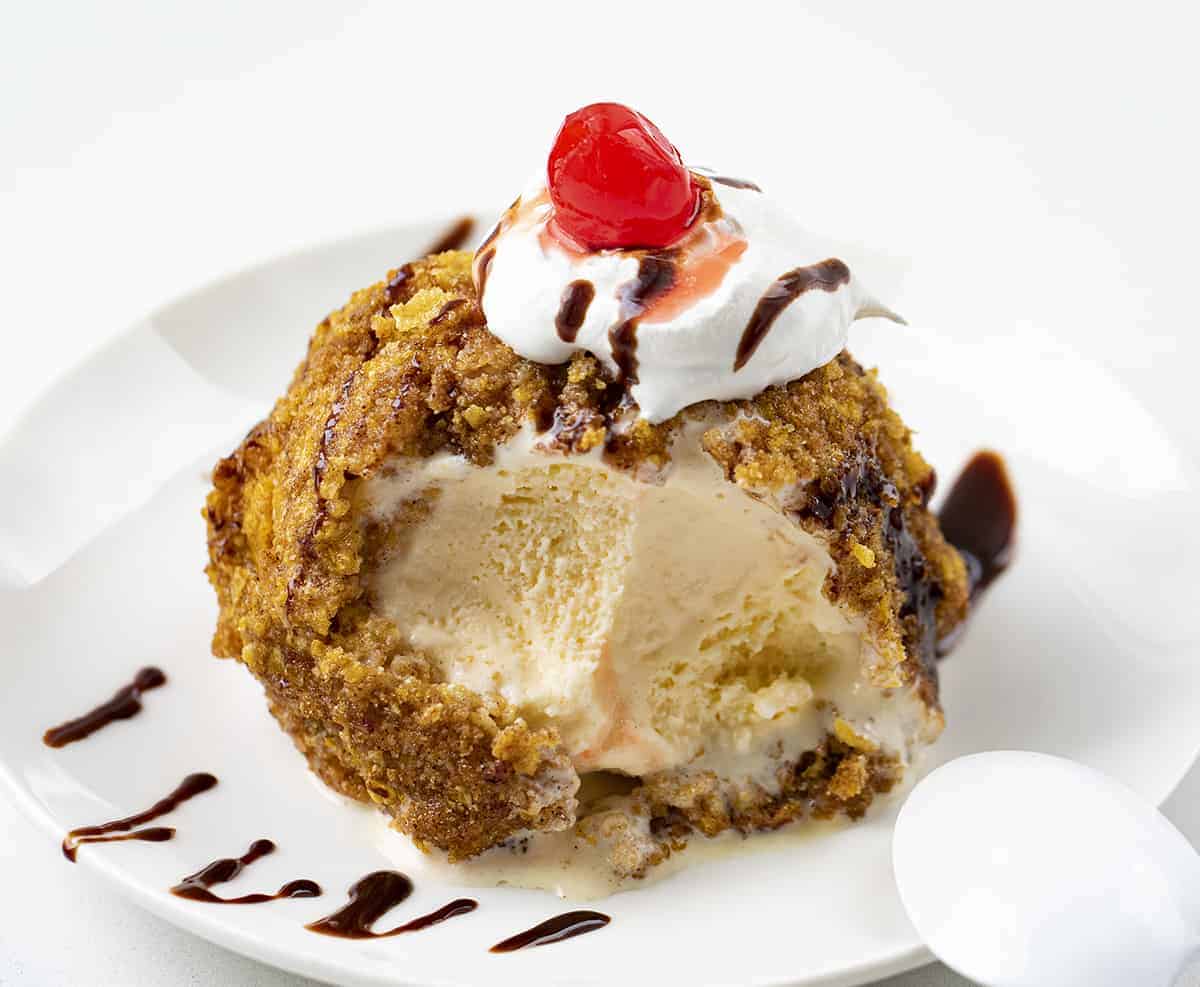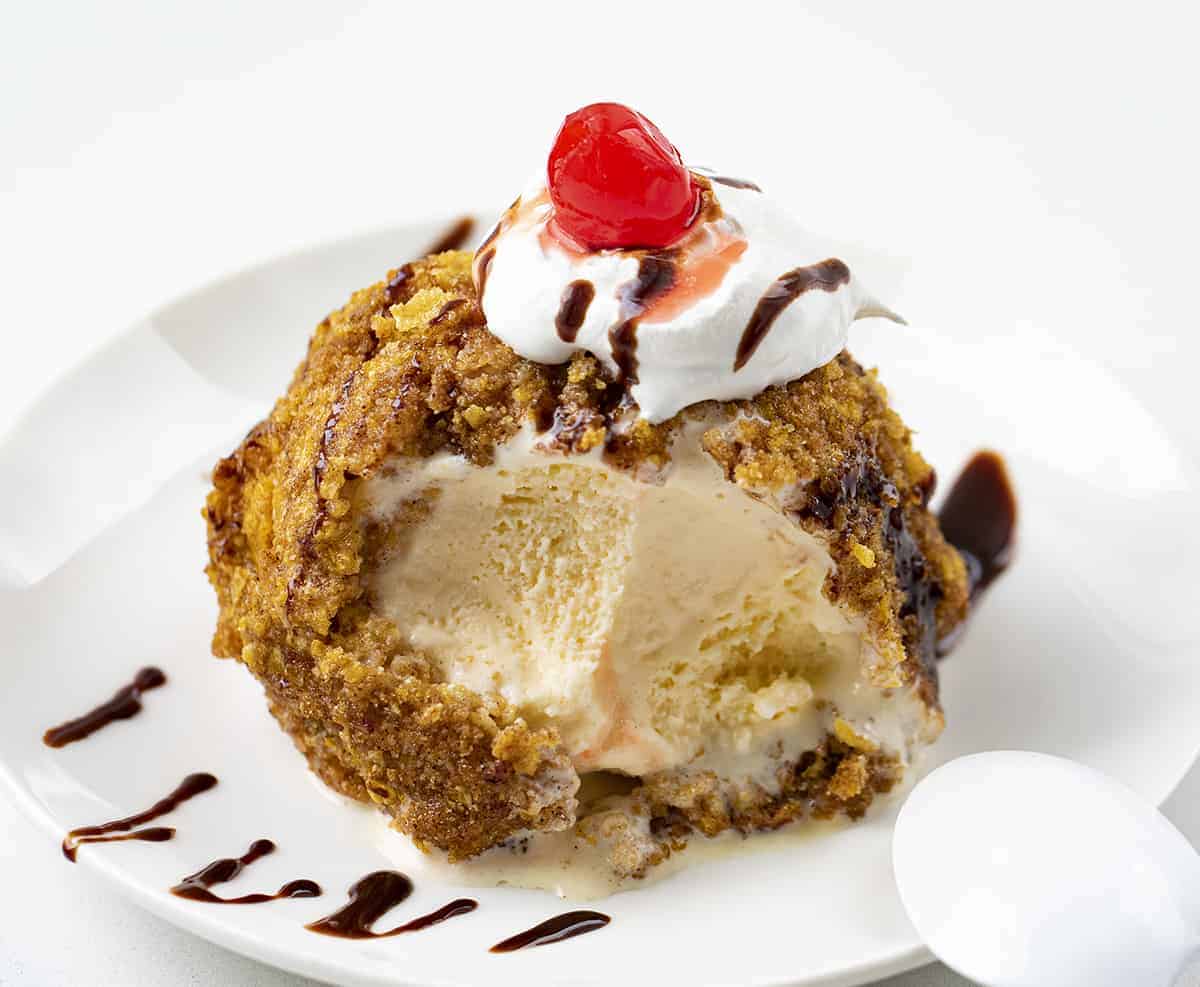 Can I Make This Dessert in an Air Fryer?
Yes! To make this dessert in an air fryer, follow the instructions up to frying in oil. Instead, line the basket of your air fryer with aluminum foil, and preheat your air fryer to 400°F. Then, place the coated balls of ice cream into the basket, you may need to work in batches depending on the size of your air fryer. Cook for 2-3 minutes, or until golden brown.
This is not as pretty 😂 but is still tasty.
Can I Make this Dessert Ahead of Time?
Although best served fresh, right after frying, you can store the fried ice cream. Just place them in the freezer to be enjoyed later. However, they will not be as crispy when served. You could also store the coated balls of ice cream before frying for up to a month in the freezer.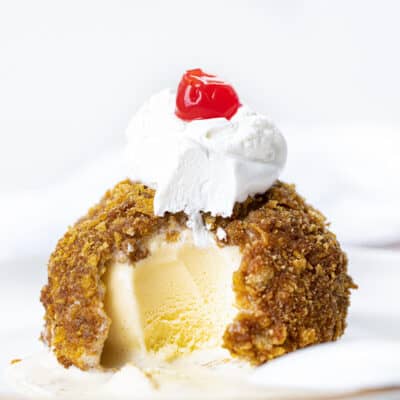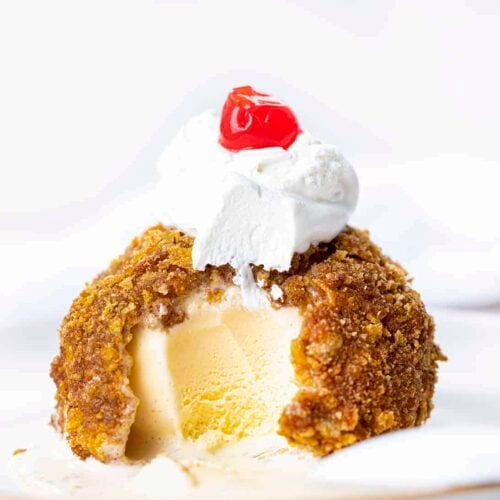 Fried Ice Cream
Fried Ice Cream is a frozen ball of ice cream, coated in egg whites, vanilla wafers, cornflakes, and cinnamon, deep-fried to a golden brown.
Ingredients
1

quart

vanilla ice cream

30

vanilla

wafers

2½

cups

(50 g) corn flake cereal

2

teaspoons

ground cinnamon

3

large

egg whites,

whisked

2

quarts

vegetable oil,

for frying
Instructions
Set out 8 square sheets of plastic wrap, about 8 inches wide. You will layer two sheets per scoop of ice cream.

Use an ice cream scoop to scoop out a one-cup serving of ice cream. Place the ice cream in the center of the plastic wrap and pull the edges up together at the top. Twist the plastic wrap around the ice cream to create a tight barrier around it. Use your hands to form the ice cream into a ball shape.

Place the ice cream balls in a 9×9-inch pan and transfer to the freezer for 1 hour, or until firm.

Meanwhile, in a food processor, add vanilla wafers. Process until you have a fine crumb.

Add the corn flakes and cinnamon to the food processor and pulse a few times until crushed. Some crumbs are okay. Pour the mixture into a shallow bowl.

In a separate dish, add the whisked egg whites.

When ready, working one at a time, take the ice cream balls out of the freezer. Remove the plastic wrap. First, roll the ball of ice cream in the egg whites, followed by the corn flake mixture. Roll again in the egg whites and then again in the corn flake mixture.

Place the coated ice cream ball back into the 9×9-inch pan. Repeat with the remaining ice cream balls and freeze them again for 4 hours, up to overnight. You want the ice cream to be very cold and very firm.

When ready to fry, line a baking sheet or large plate with paper towels.

Add oil to a large, deep pot and heat the oil to 375°F.

Once the oil is hot, remove the ice cream from the freezer. Again, working one at a time, use a slotted spoon to carefully lower the ice cream balls into the hot oil. Fry for 5-10 seconds, or until golden brown.

Quickly remove the ice cream balls from the oil and place them on the paper towel-lined baking sheet.

Serve immediately for a warm outside and a slightly softened inside. Or, freeze again for 10-15 minutes for a cold treat.

Top with optional toppings.
Did you make this recipe?
Thank you for making my recipe! You took pictures, right? Well go ahead and post them on Instagram! Be sure to mention me @iambaker and use the hashtag #YouAreBaker.