Blueberry No-Churn Ice Cream is super flavorful homemade ice cream made with fresh blueberries. The best part? No ice cream machine is required! As soon as I saw how creamy and perfect my vanilla No-Churn Ice Cream turned out, I knew I couldn't stop with just one flavor!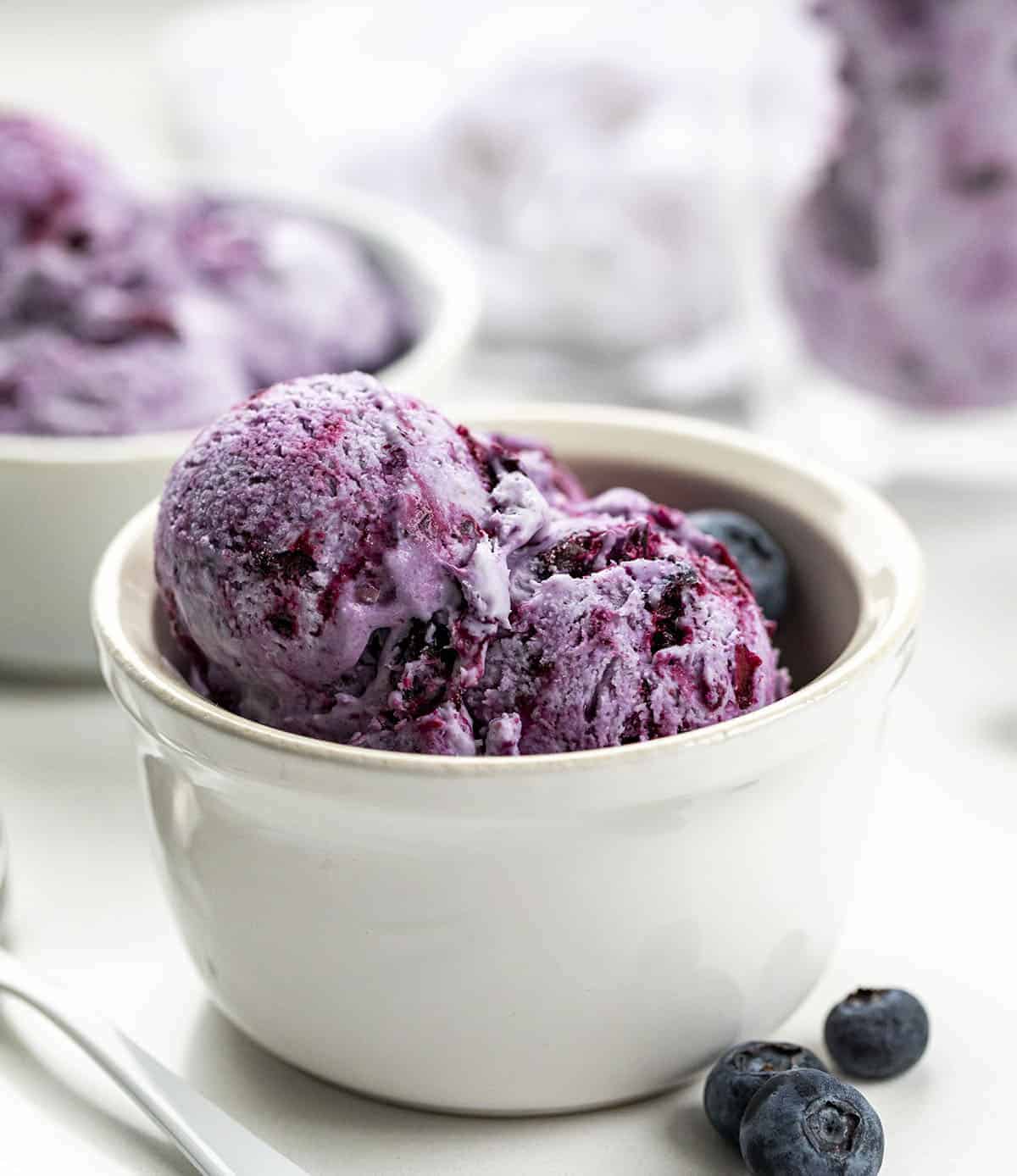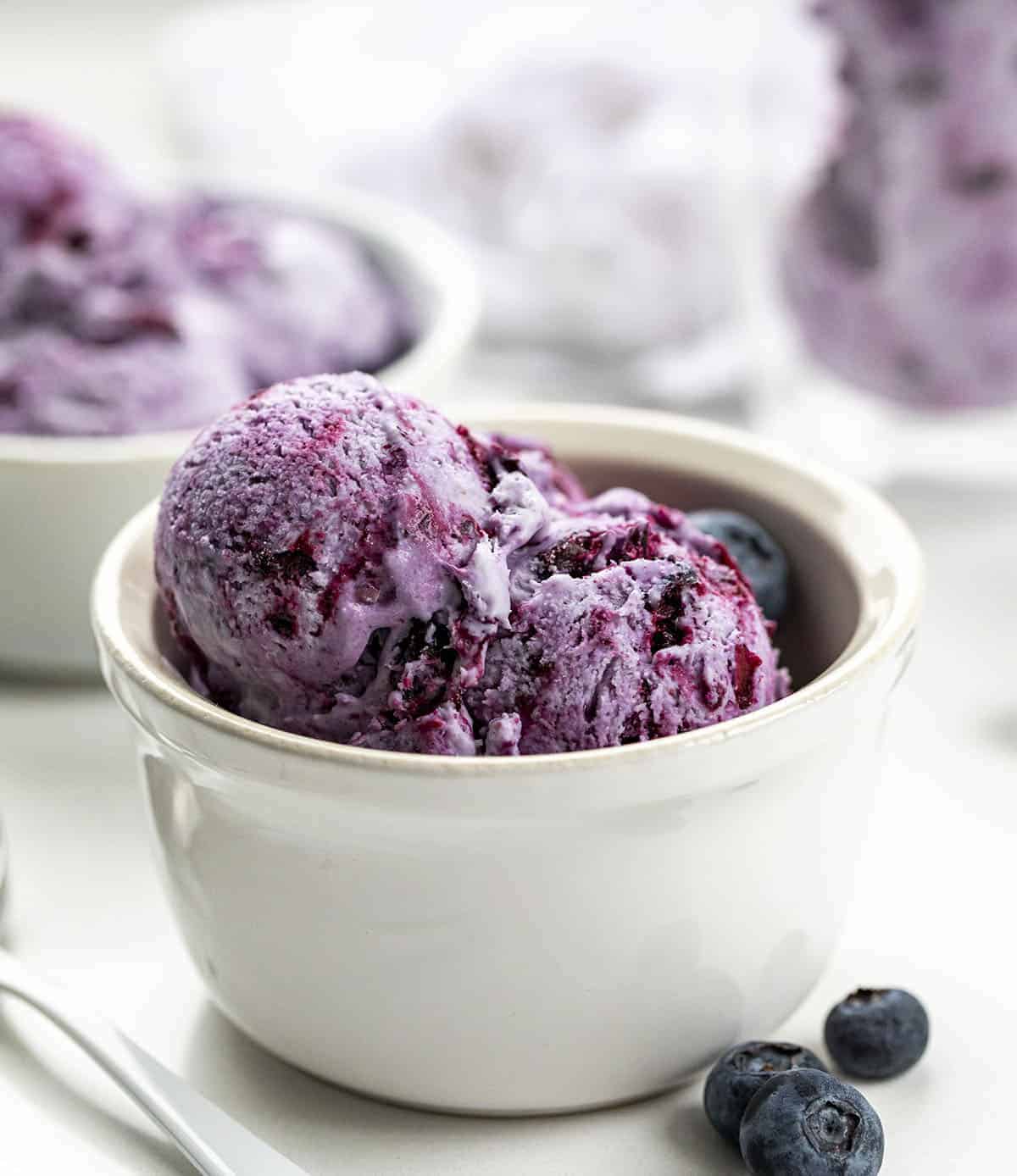 Blueberry No-Churn Ice Cream
Once you and your guests take a bite of this ultra-creamy blueberry ice cream, they will never believe it is homemade. And, even better, it is made without any fancy tools or equipment. I packed in the blueberry flavor with both a blueberry sauce and fresh blueberries. I was looking forward to dessert all week after I made this!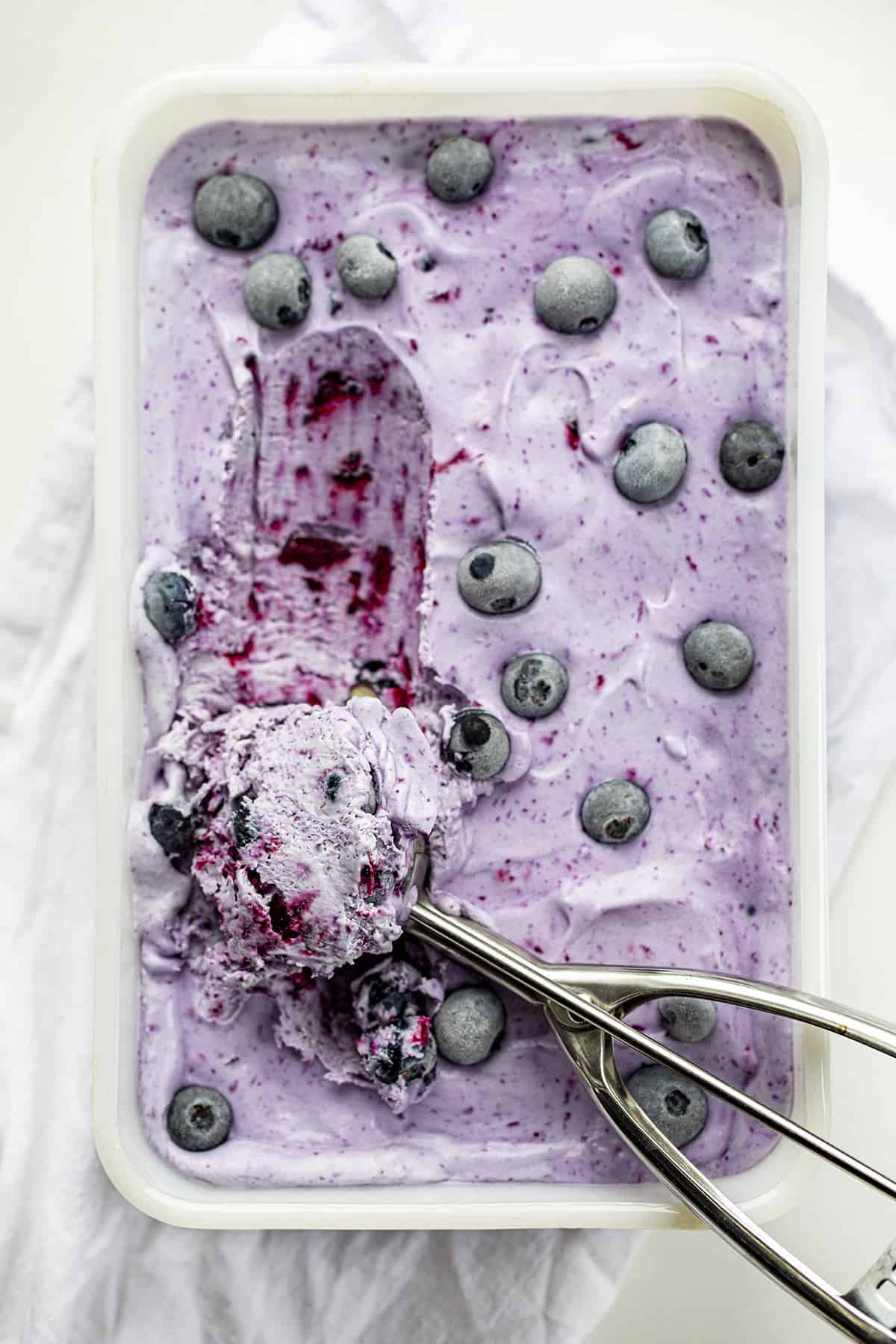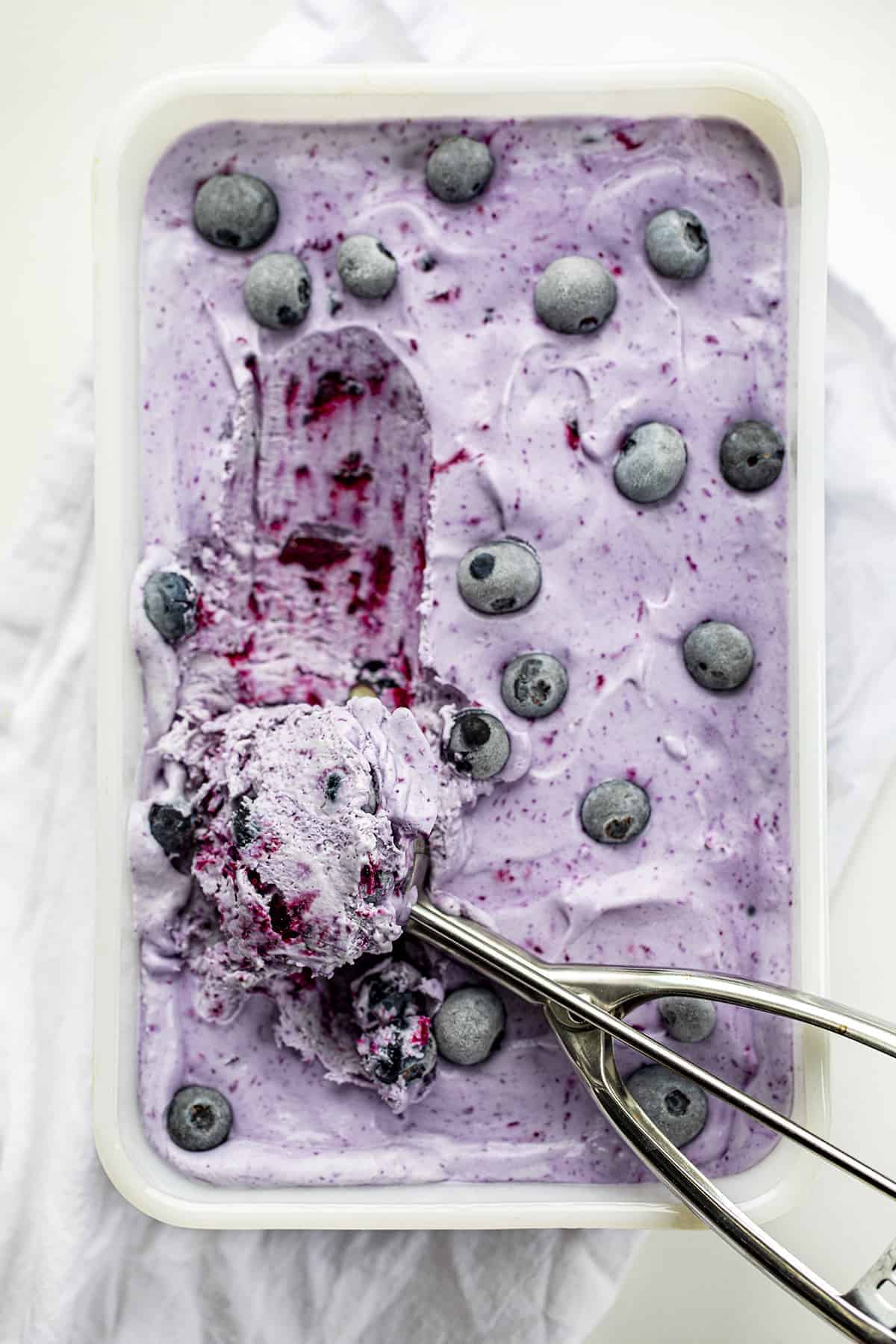 Ice Cream Ingredients
Blueberries: A total of 3 cups of fresh blueberries are used in this recipe. Two cups are boiled down and the rest of the blueberries are folded into the ice cream. You could also use frozen blueberries.
Sugar: The granulated sugar used in this recipe is for breaking down the blueberries into a sauce.
Sweetened Condensed Milk: Be sure to check the labels when buying sweetened condensed milk; do not use evaporated milk. This is a common ingredient in no-churn ice cream; it replaces sugar for sweetness.
Can I Use Other Kinds of Fruit?
Sure! You can use fresh or frozen fruit to add to your no-churn ice cream, and no saucepan is required. Simply mash up the fruit before adding it to the sweetened condensed milk and whipped cream mixture. If using frozen, let the fruit thaw so it's easy to mash.
You could also use a blender or food processor to mash the fruit if you don't want lots of chunks in your ice cream.
Or, use a can of your favorite fruit pie filling to use in the ice cream.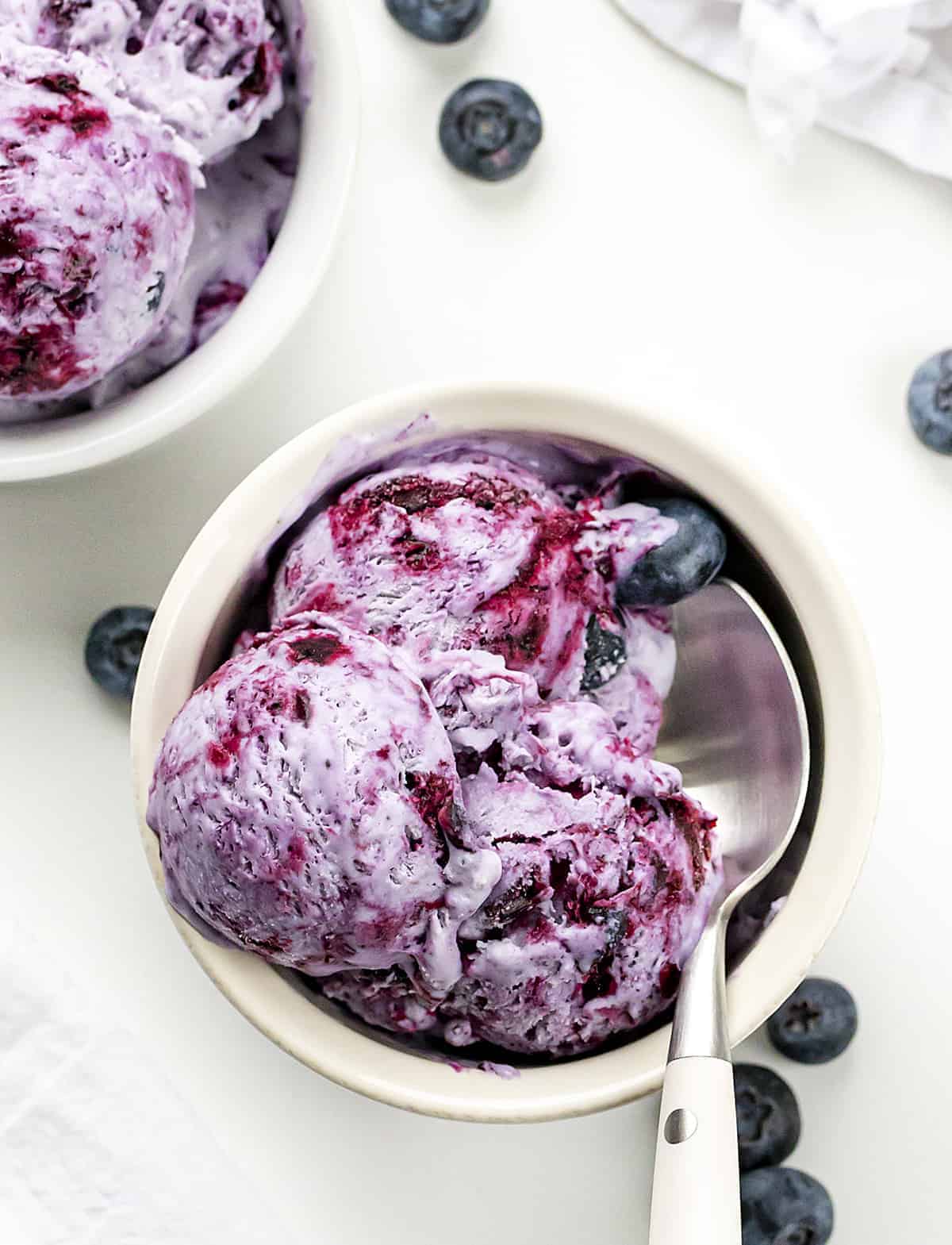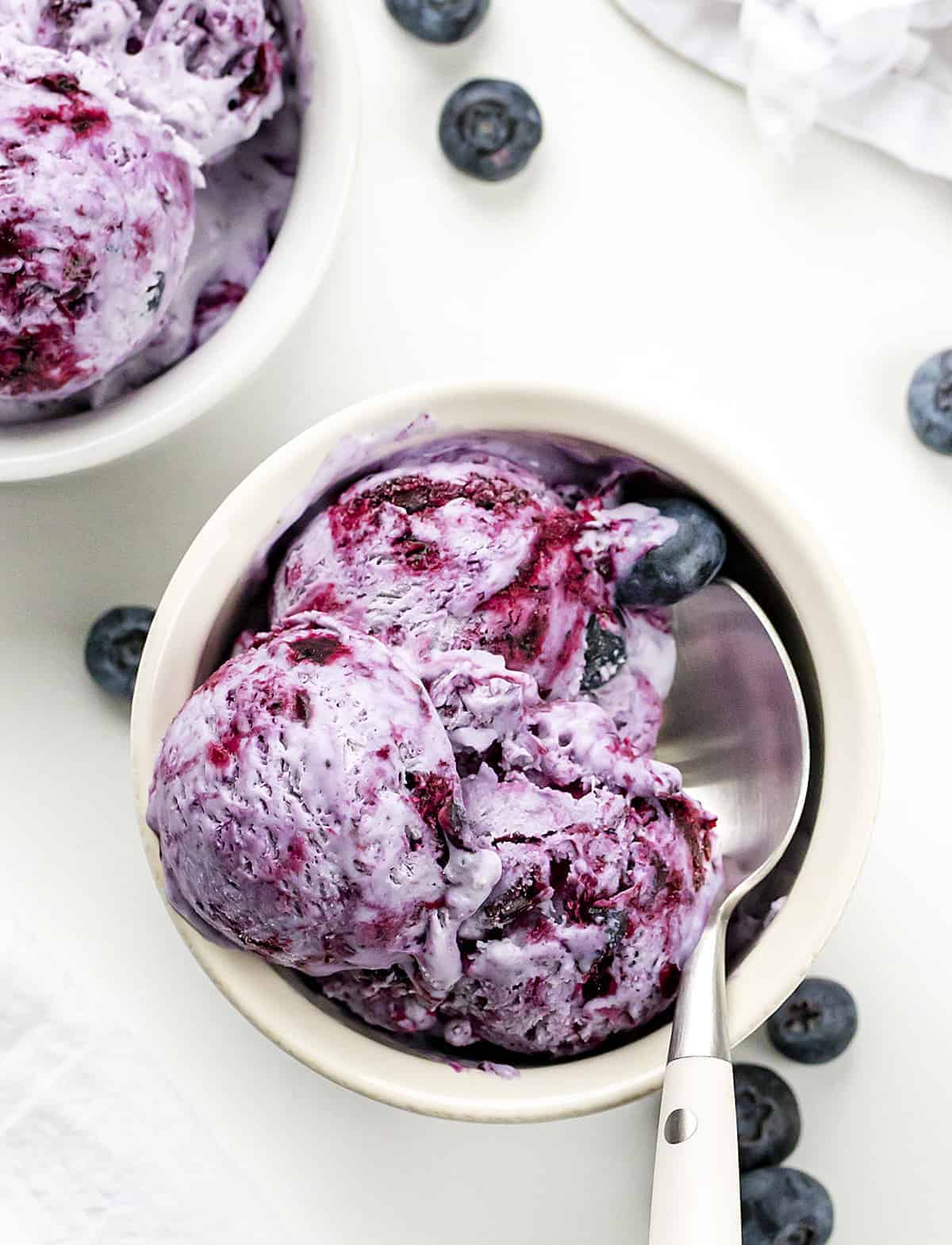 How to Store No-Churn Ice Cream
Yes, there are fancy and specific ice cream containers you could buy, but you could also use containers you have on hand. Here are some options:
Freezer-safe container
An old ice cream bucket (Just be sure to wash it out well and place a layer of plastic wrap on the top of the ice cream before adding the lid.)
A loaf pan (like the one in which you chilled the batch of ice cream) However, be sure to cover it with plastic wrap if you are going to keep it in the pan.
Pie plate–Again, just be sure to cover the top of the ice cream with plastic wrap.
How Long Does No-Churn Ice Cream Last in the Freezer?
If the ice cream is well-sealed, then it should last a couple of months in the freezer. Keep it stored near the back of the freezer; once you see it's freezer-burned, it is probably a good idea to throw it out.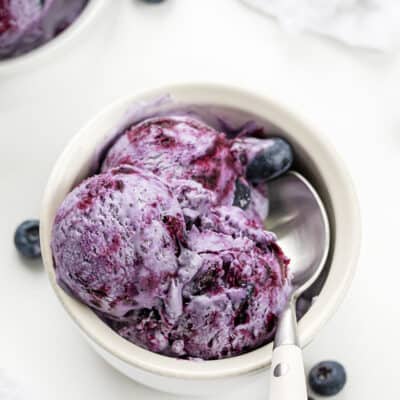 Blueberry No-Churn Ice Cream
Blueberry No-Churn Ice Cream is super creamy homemade ice cream made with fresh blueberries and no ice cream machine is required!
Ingredients
3

cups

fresh blueberries,

divided (plus save a couple for garnish)

¼

cup

(50 g) granulated sugar

1

tablespoon

freshly squeezed lemon juice

2

cups

(476 g) heavy whipping cream

1

can

(14 ounces) sweetened condensed milk

1

teaspoon

vanilla extract

1

pinch

kosher salt
Instructions
Place a 9×5-inch loaf pan in the freezer to chill.

To a medium saucepan over medium heat, add 2 cups of the blueberries, sugar, and lemon juice. Bring it to a boil. After it comes to a boil, use the back of a spoon or potato masher to gently mash the blueberries. The blueberries should start to break down in 10-15 minutes, resulting in 1 cup sauce.

Remove from heat and set aside to cool completely.

To the bowl of a stand mixer, add the heavy cream. Start mixing at the lowest speed, and then gradually increase speed to medium until the cream starts to get thicker. (The gradual progression prevents you from spraying yourself with cream.)

The cream will thicken and start to peak. Mix on high speed until the cream is thick and stiff. This happens quickly, so watch it closely!

In a medium bowl, combine sweetened condensed milk, vanilla, salt, and 1 cup of whipped cream.

Gently fold the sweetened condensed milk mixture and cooled blueberry sauce into the mixing bowl with the rest of the whipped cream.

Gently fold in the reserved cup of blueberries.

Pour the mixture into the chilled pan and freeze for at least 5 hours, or until fully set up, before serving.
Did you make this recipe?
Thank you for making my recipe! You took pictures, right? Well go ahead and post them on Instagram! Be sure to mention me @iambaker and use the hashtag #YouAreBaker.