Christmas Dessert Charcuterie Board is a tray of candies, cookies, and fruit with a variety of dips for dipping. It's a beautiful and flavorful Christmas-themed display that is perfect for all of your holiday parties. Try my Surf and Turf Butter Board for a savory option that is also impressive.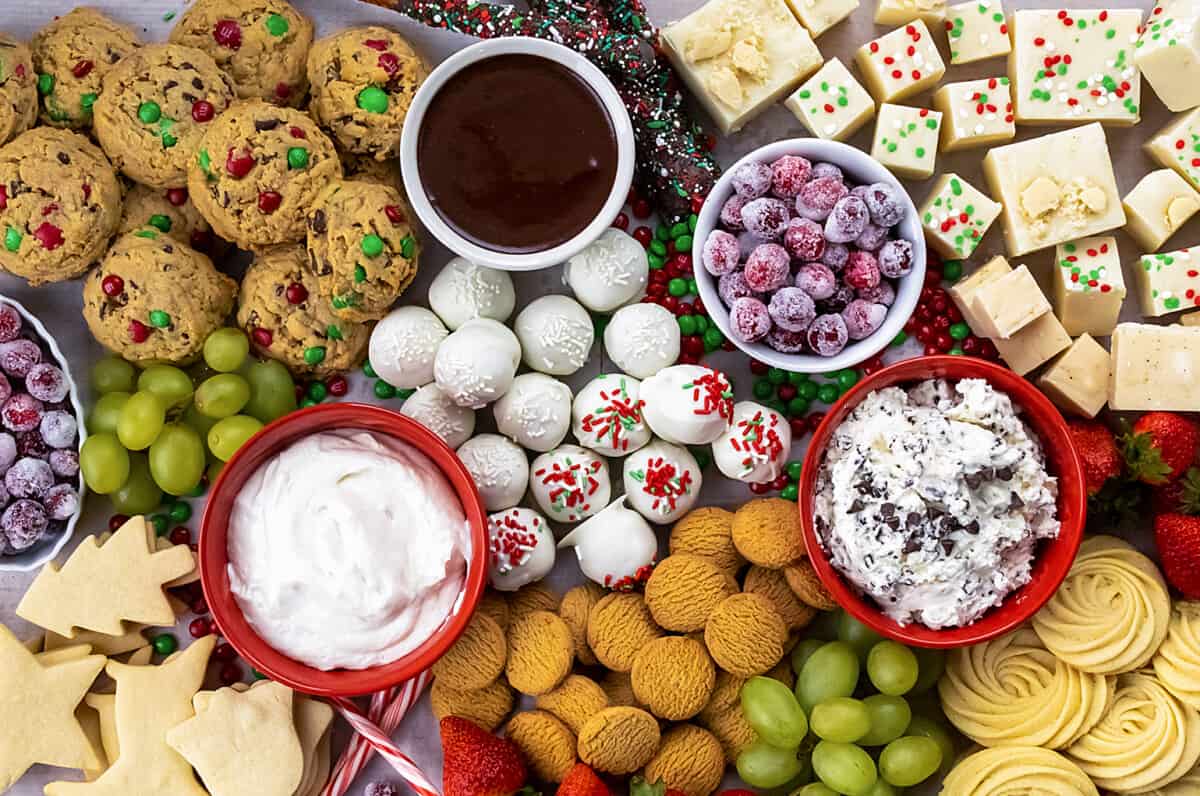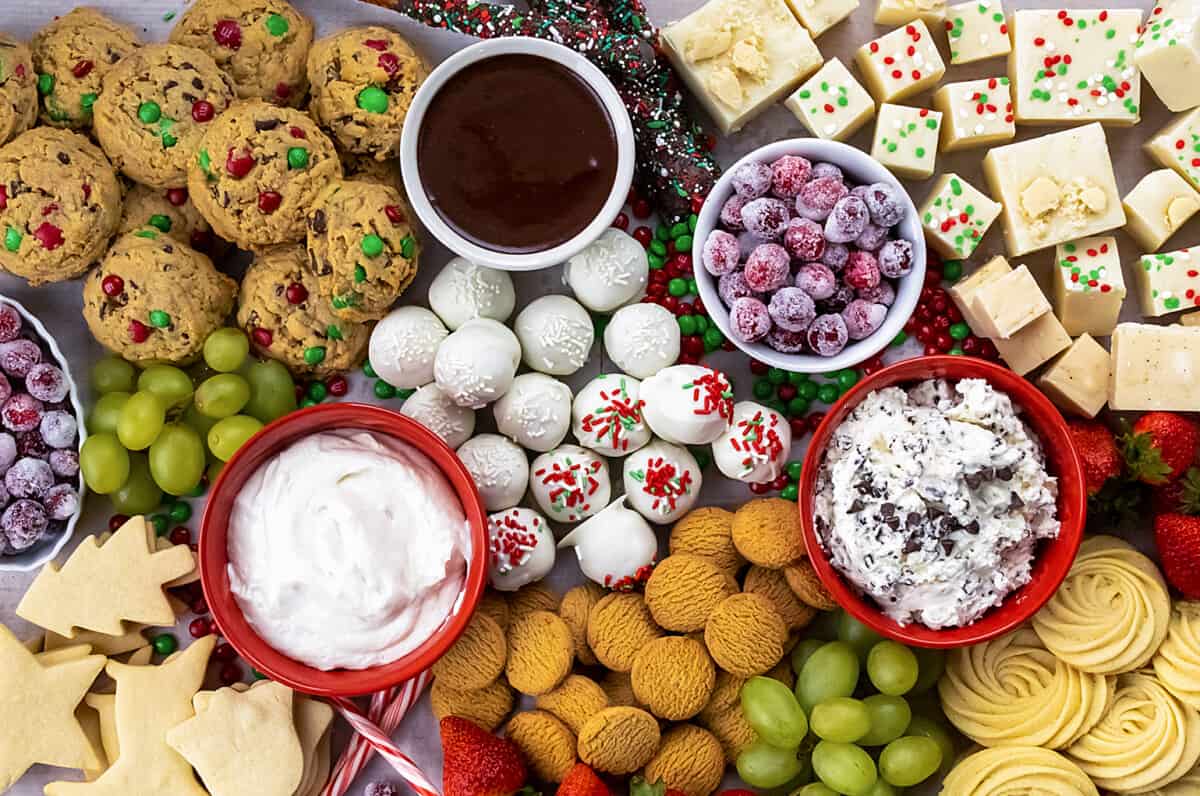 Christmas Dessert Charcuterie Board
With charcuterie boards all of the rage right now, why not add a dessert board to your holiday menu? It's not only a lovely display of festive treats but also delicious with lots of choices for you and your guests. It was really fun to assemble this board with colors and desserts to represent the Christmas holiday!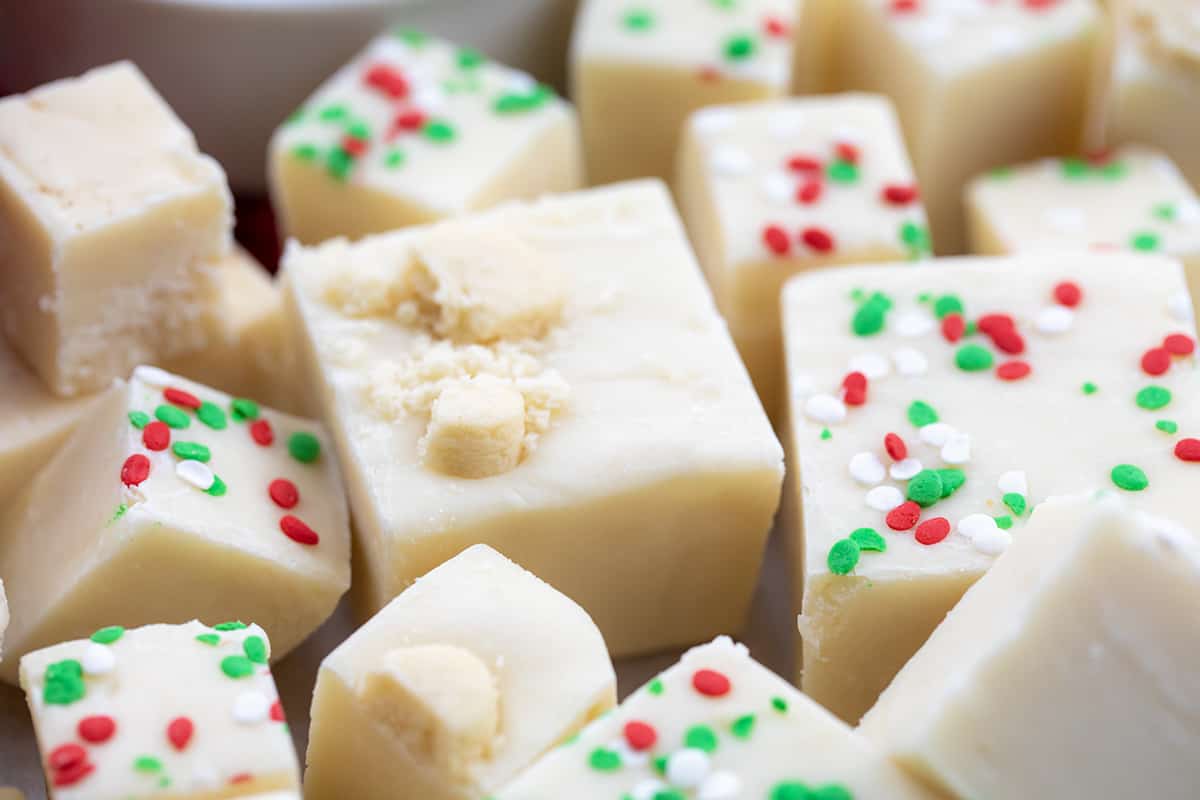 Ingredients & Substitutions
This dessert charcuterie board is very adaptable, but here are some suggestions to get you started when putting it together. Click on the category links for even more ideas for your board!
Candies: Here are some sweet candy options: sugar cookie truffles, eggnog fudge, sugar cookie fudge, chocolate-covered pretzels, candied walnuts or pecans, candy canes, and Christmas M&M's (red and green).
Cookies: Butter cookies, sugar cookies, and Christmas monster cookies made the cut for my board. And, you can make homemade cookies or buy them from the store.
Fruit: I added strawberries and green grapes to keep up with the Christmas colors theme. And, I also added a couple of bowls of my sugared cranberries. It's like a holiday fruit tray among all of the other sweet treats.
Dips: Dips I provided were chocolate butter ganache, booty dip, and fruit dip. Another option would be to add American buttercream as a dip, too.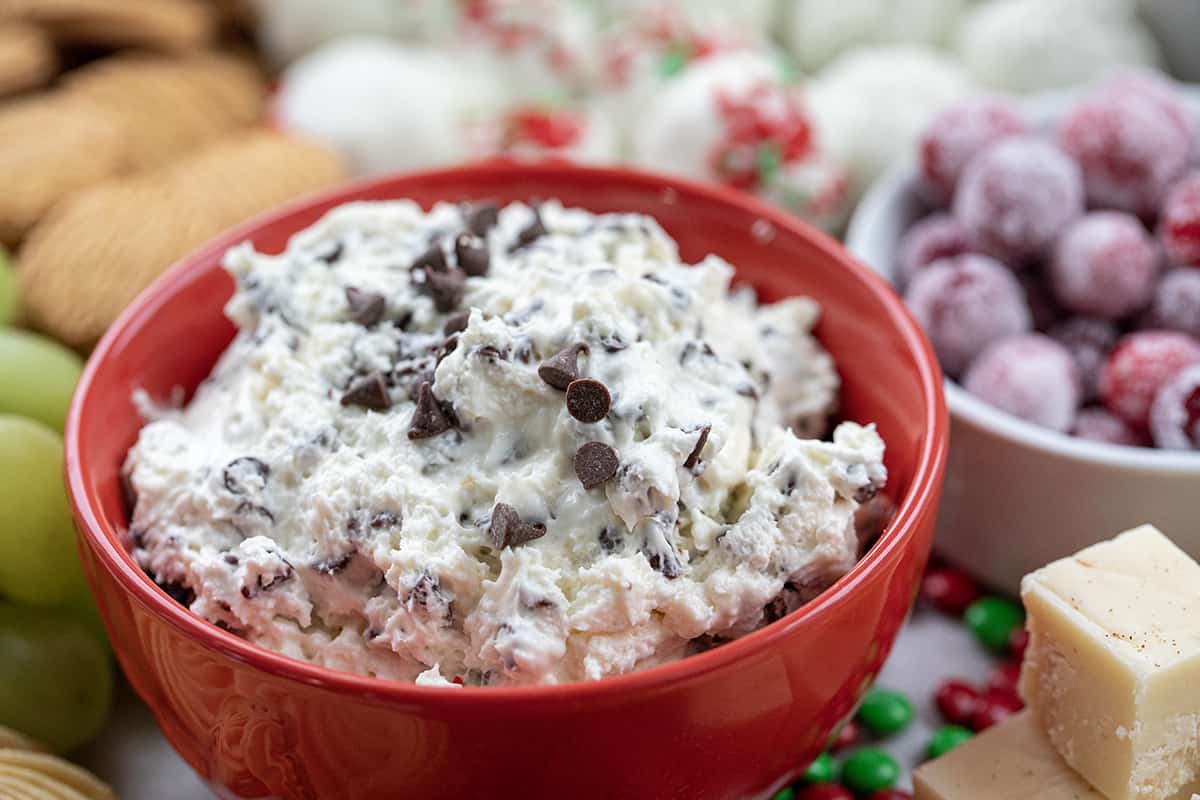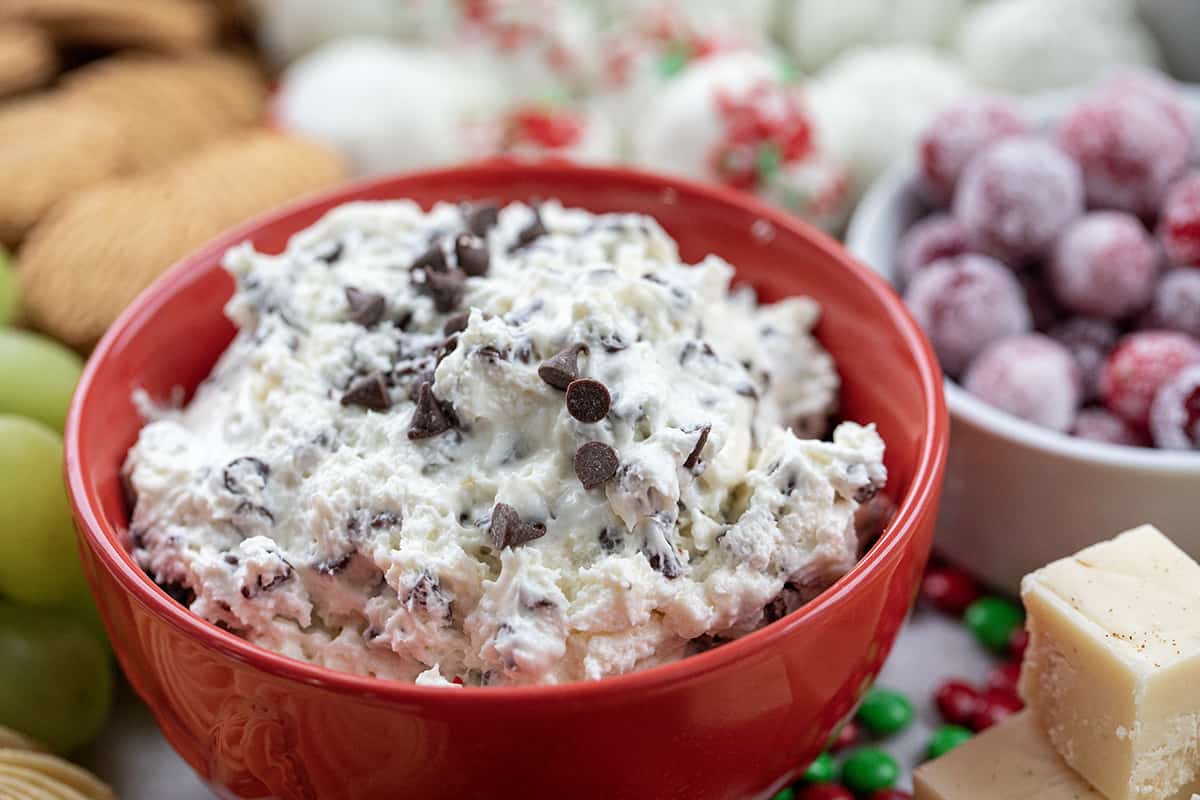 What is a Dessert Charcuterie Board?
Charcuterie actually refers to preparing and serving cured meats. However, it is now a term that is used more loosely, referring to a variety of foods on a platter from cheeses to meats to butter boards and this dessert charcuterie. Be sure to have a wide variety of treats and desserts to really make a statement!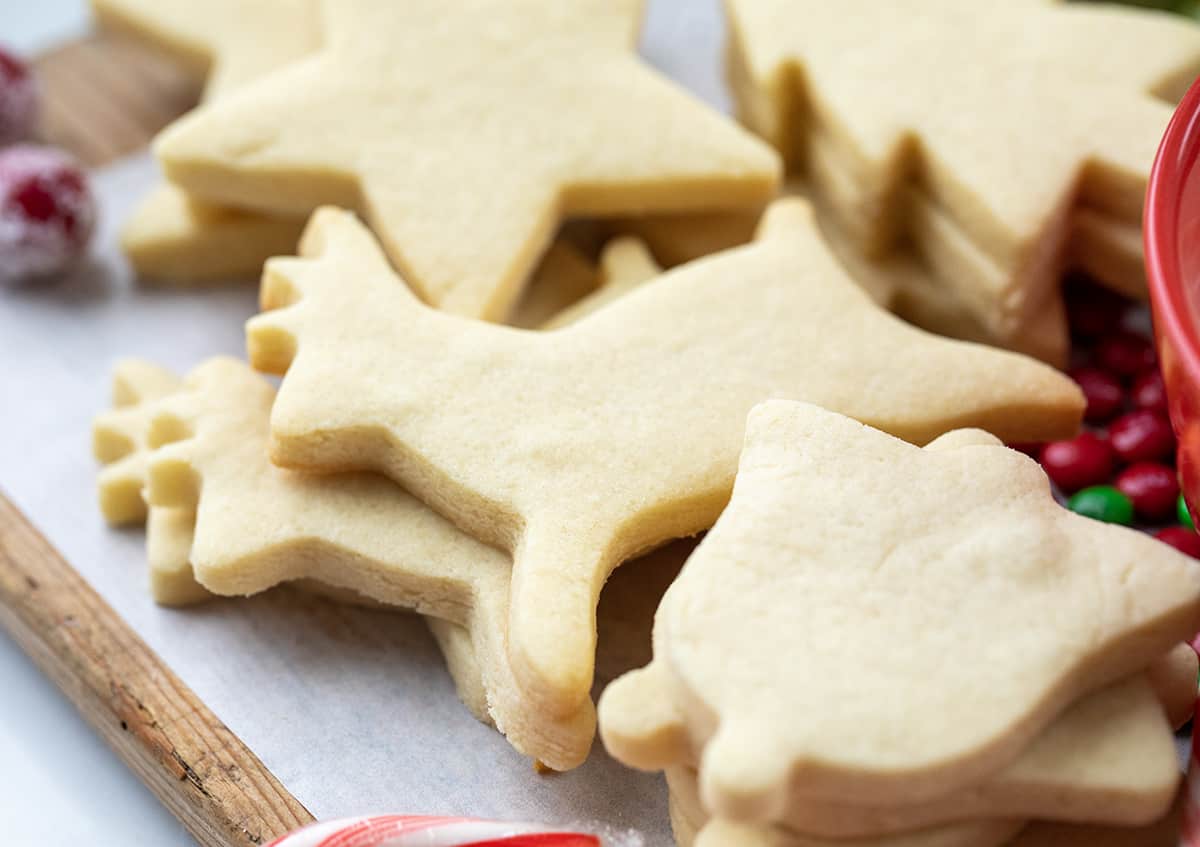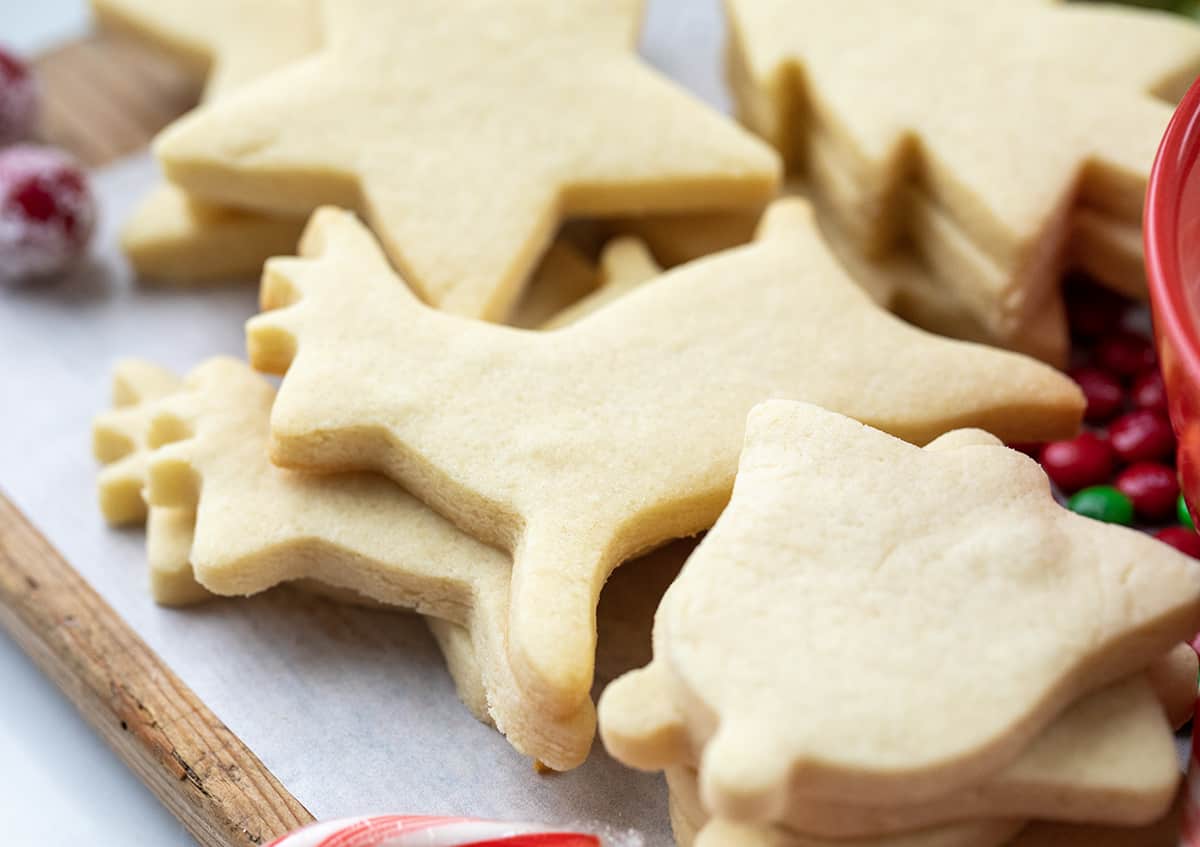 How to Serve a Dessert Charcuterie Board
First of all, look for a board or a tray that you want to serve the dessert charcuterie. It doesn't have to be anything fancy, but make sure it is large enough to fit all of your treats and dips. If it matches your theme, great! (But, that is not necessary; everyone will be focused on all the decadent treats.) For the dips, it's fun to use a variety of bowls. Yes, many items are finger foods, but for safe handling of the food, be sure to provide some utensils and tongs for serving.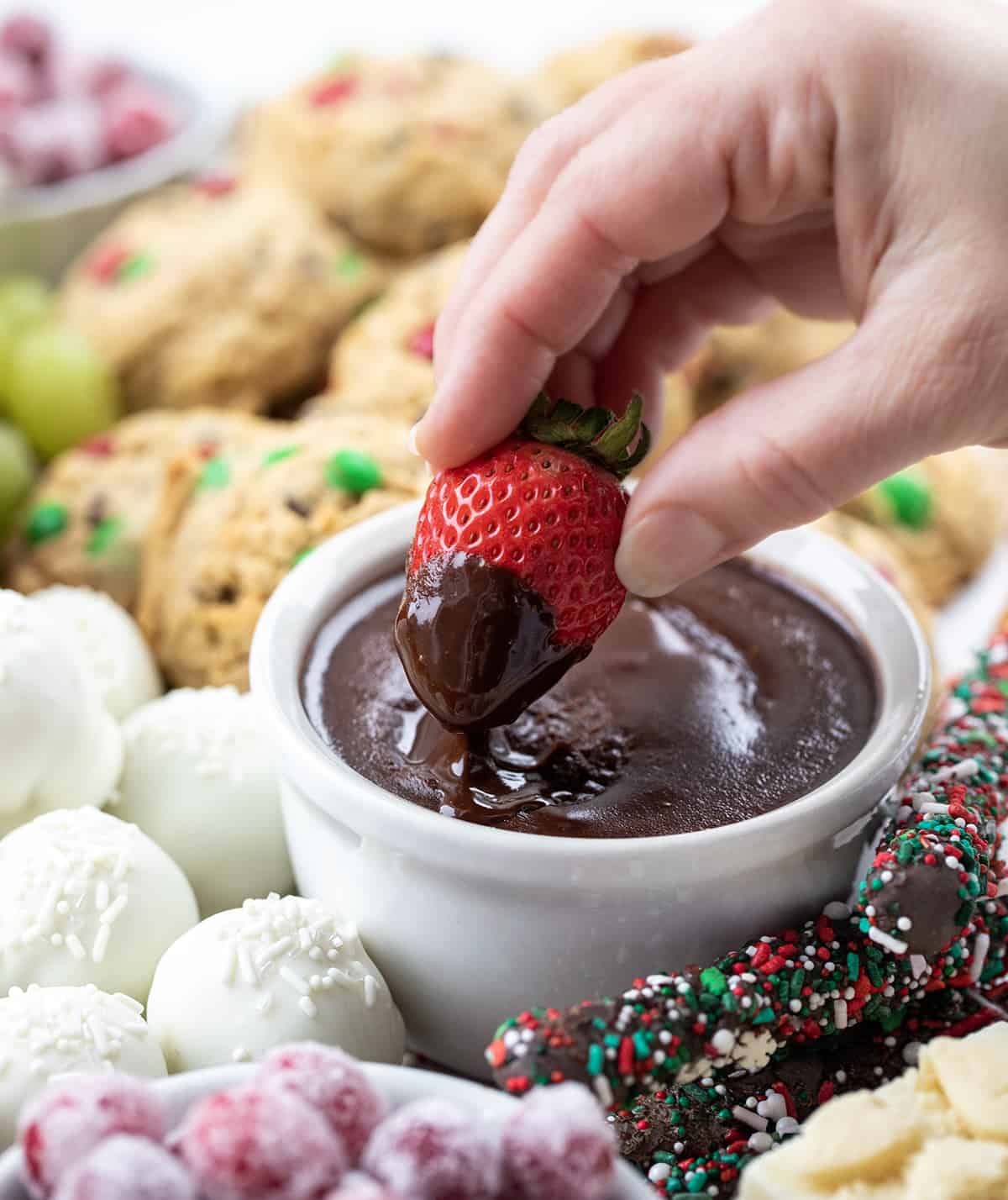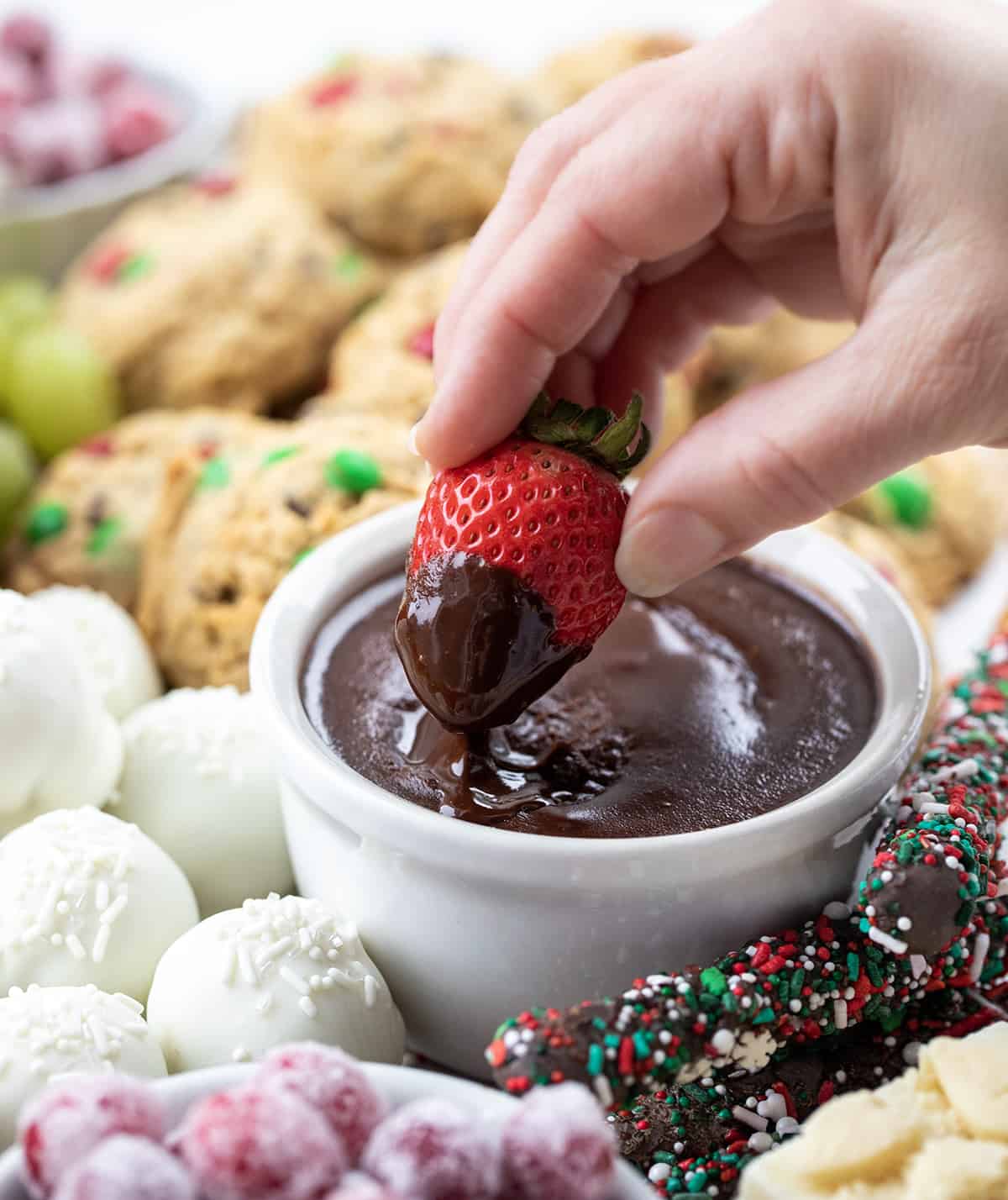 Can I Make the Board Ahead of Time?
I would not recommend assembling the dessert charcuterie board until ready to serve, but you can certainly get a head start when it comes to the items on the board. Most cookies can be made ahead of time and frozen until ready to enjoy. Fudge is another treat that is easy to make in advance. It can be stored for a couple of weeks or even frozen for a longer shelf life. And finally, the dips can each easily be stored for up to a week or two in most cases.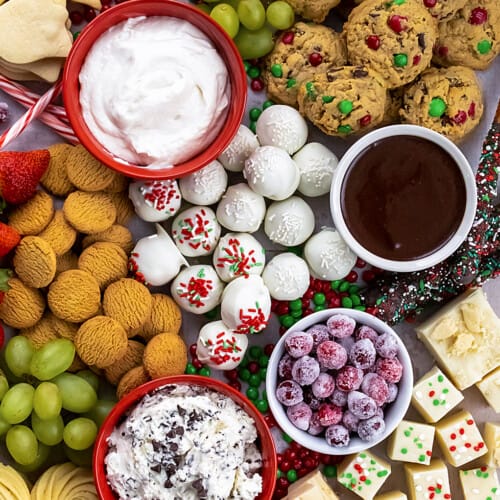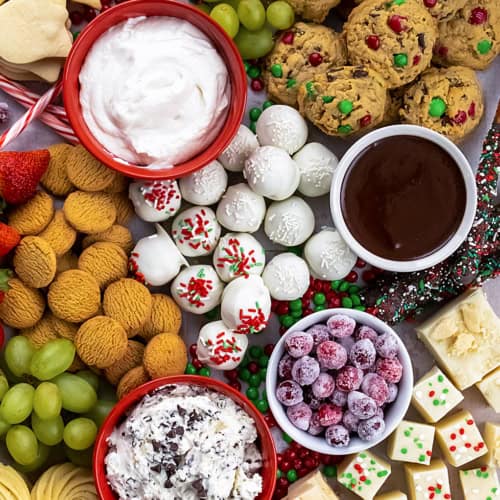 Christmas Dessert Charcuterie Board
Christmas Dessert Charcuterie Board is a tray of candies, cookies, and fruit with a variety of dips for dipping.
Ingredients
Instructions
Using a large cutting board (you can also use a countertop or table lined with parchment), start by arranging the largest items and dips first. Leave space in between each for nestling in cookies, fudge, and fruit. Fill in the spaces until the board is completely full.

Serve with utensils, as needed.
Did you make this recipe?
Thank you for making my recipe! You took pictures, right? Well go ahead and post them on Instagram! Be sure to mention me @iambaker and use the hashtag #YouAreBaker.