Vanilla Delight Cake (or white cake) is a moist, delicate, and flavorful white sheet cake that is delicious on its own or perfect for your favorite frostings and toppings. It is definitely delightful to snack on, enjoy as a dessert, or share at your next celebration or party! Use this recipe when making my Sheet Pan Strawberry Shortcake to really impress your guests and your tastebuds!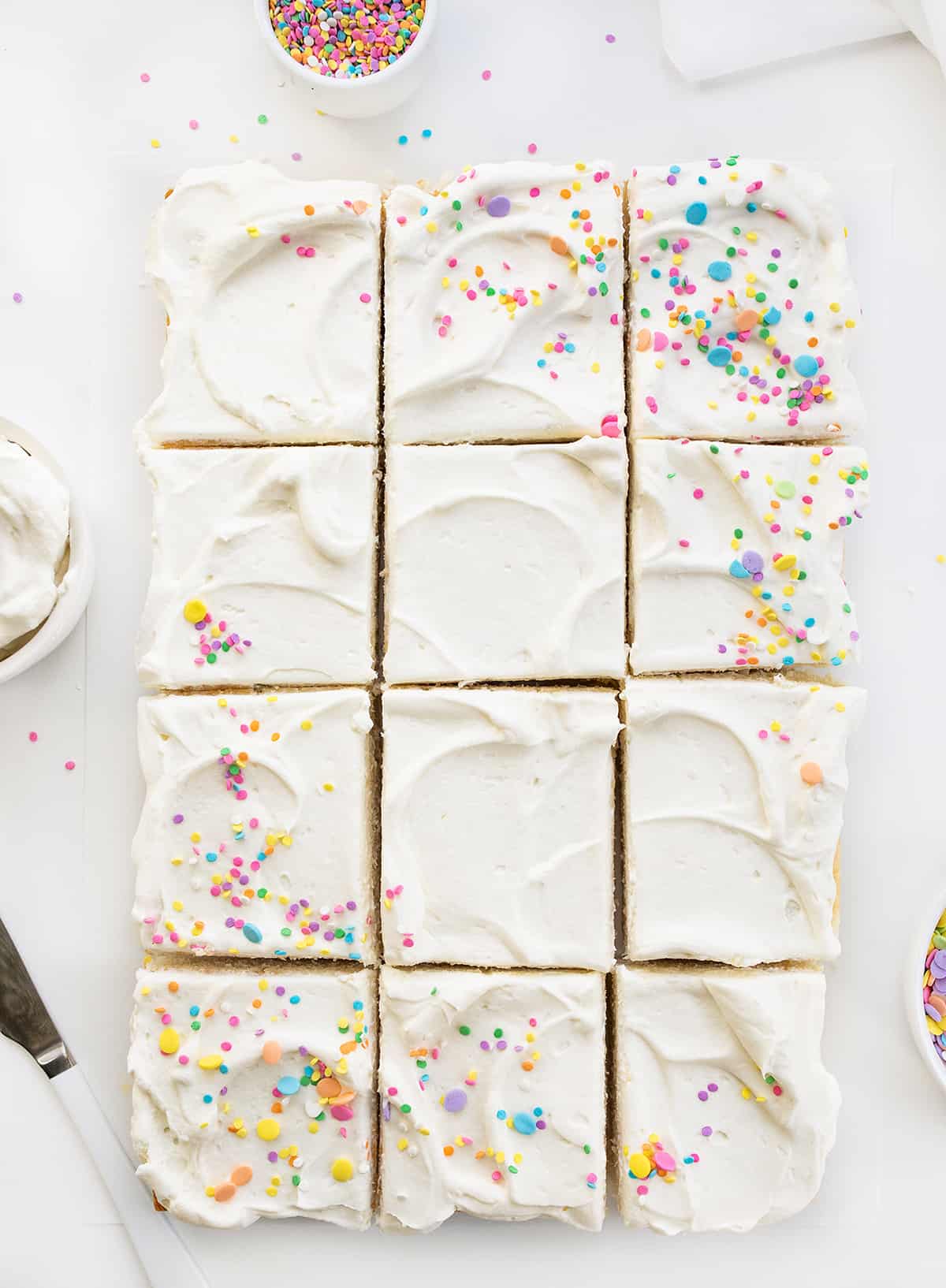 Ingredients & Substitutions
Flour: Using cake flour in this sheet cake gives the cake a delicate, fine crumb. Cake flour has less protein when compared to all-purpose flour, which makes it ideal for this tender cake. If you don't have any on hand, make your own cake flour to use.
Butter: I recommend using unsalted butter for many baked goods, including this cake. If you do use salted butter, you may want to omit the salt in the recipe.
Extracts: Both vanilla and almond extract are added to the cake batter. If you have a nut allergy, you could substitute vanilla for almond extract. Or, you can also use Imitation Almond Extract which is typically not made with almonds. Be sure to check the ingredients. If you just don't like the flavor, the cake does not taste almondy. It simply adds a freshness, a refined elegance, to the overall flavor.
Egg Whites: You will need only egg whites in this cake recipe. This gives you a lighter and fluffier texture. To separate the egg white from the yolk, simply crack the egg over a slotted spoon that is over a bowl. Let the egg whites fall through the slots in the spoon. Don't throw away the yolks! Beat them and store them in an airtight container in the refrigerator for up to 2-3 days to use in other recipes like my Browned Butter Toffee Cookies.
Milk: For the best flavor and texture of this vanilla cake, use whole milk. 1% or 2% milk will work if that is all you have on hand, but I do not recommend skim milk.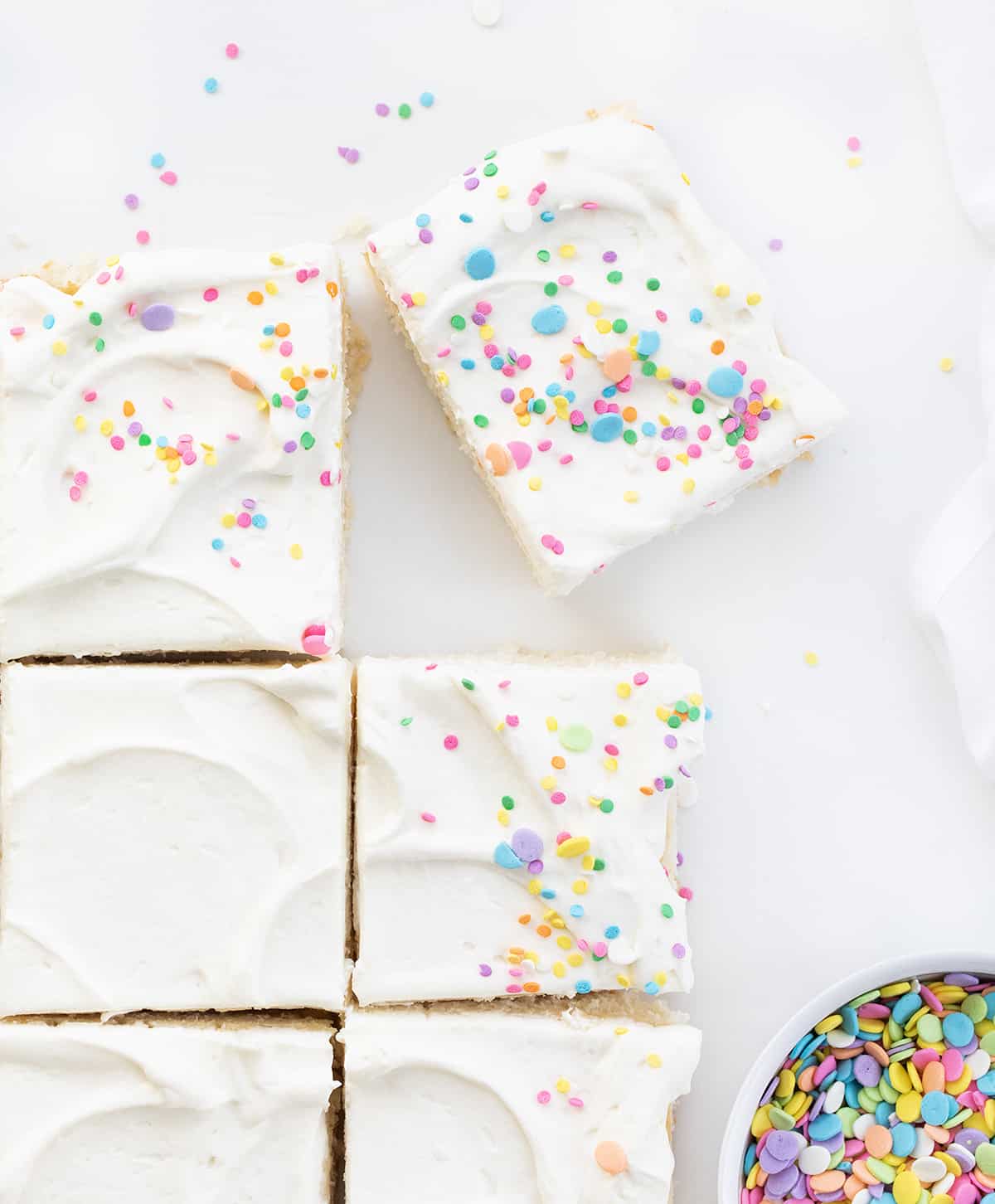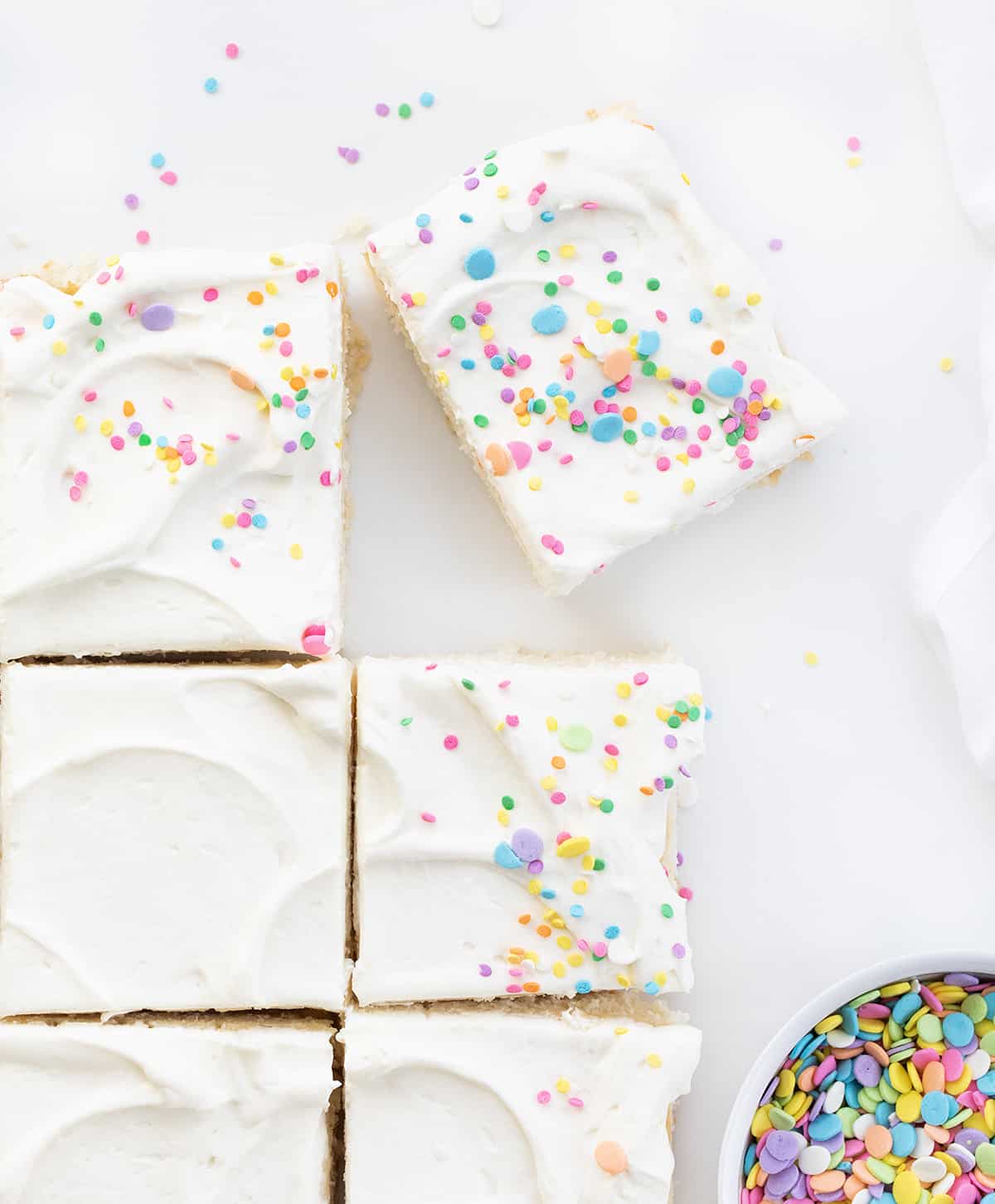 Can I Use A Different Pan?
Sure! If you don't have a jelly roll pan (a 10×15-inch pan with a 1-inch lip), you can make this vanilla cake in another pan. You could use 2, 8-inch or 9-inch round cake pans. Or, for a thicker cake, you could also make it in a 9×13-inch baking dish. However, the baking times may have to be adjusted, so watch the cake carefully.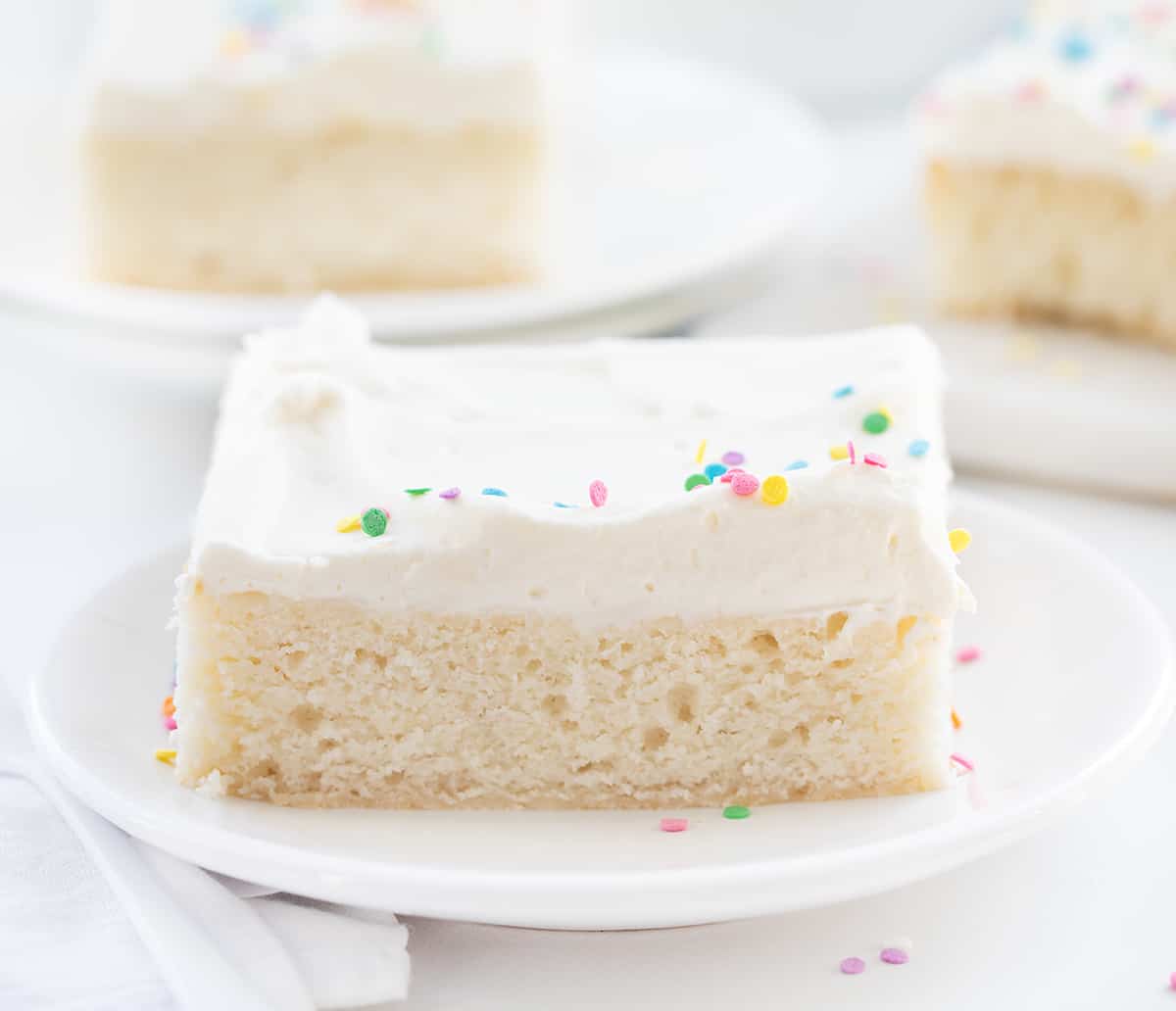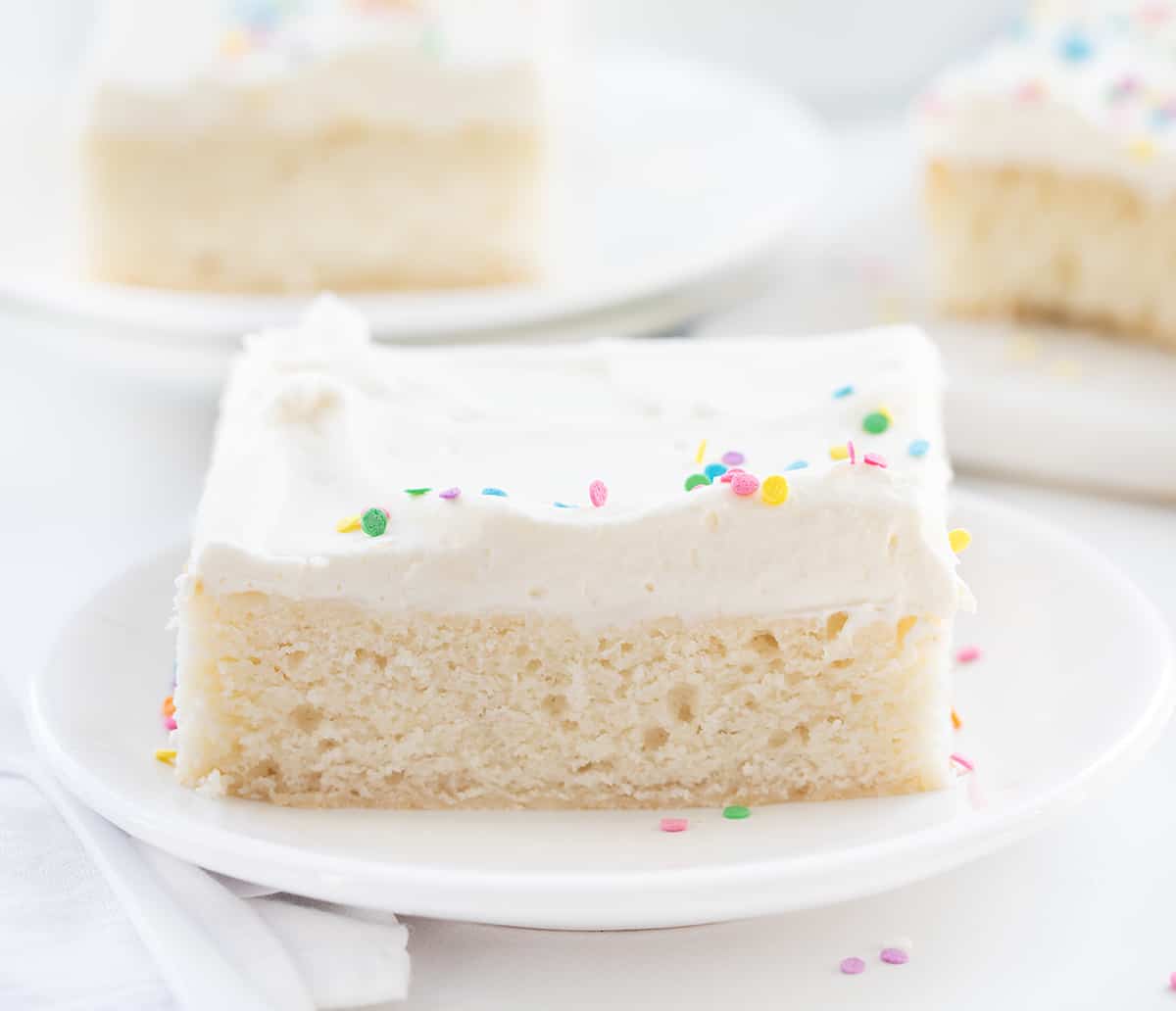 How To Store Vanilla Delight Cake
This sheet cake should be stored at room temperature in an airtight container, or at least covered. It will last up to 2-3 days. If storing the cake in the refrigerator, it will dry out faster, so I don't recommend that.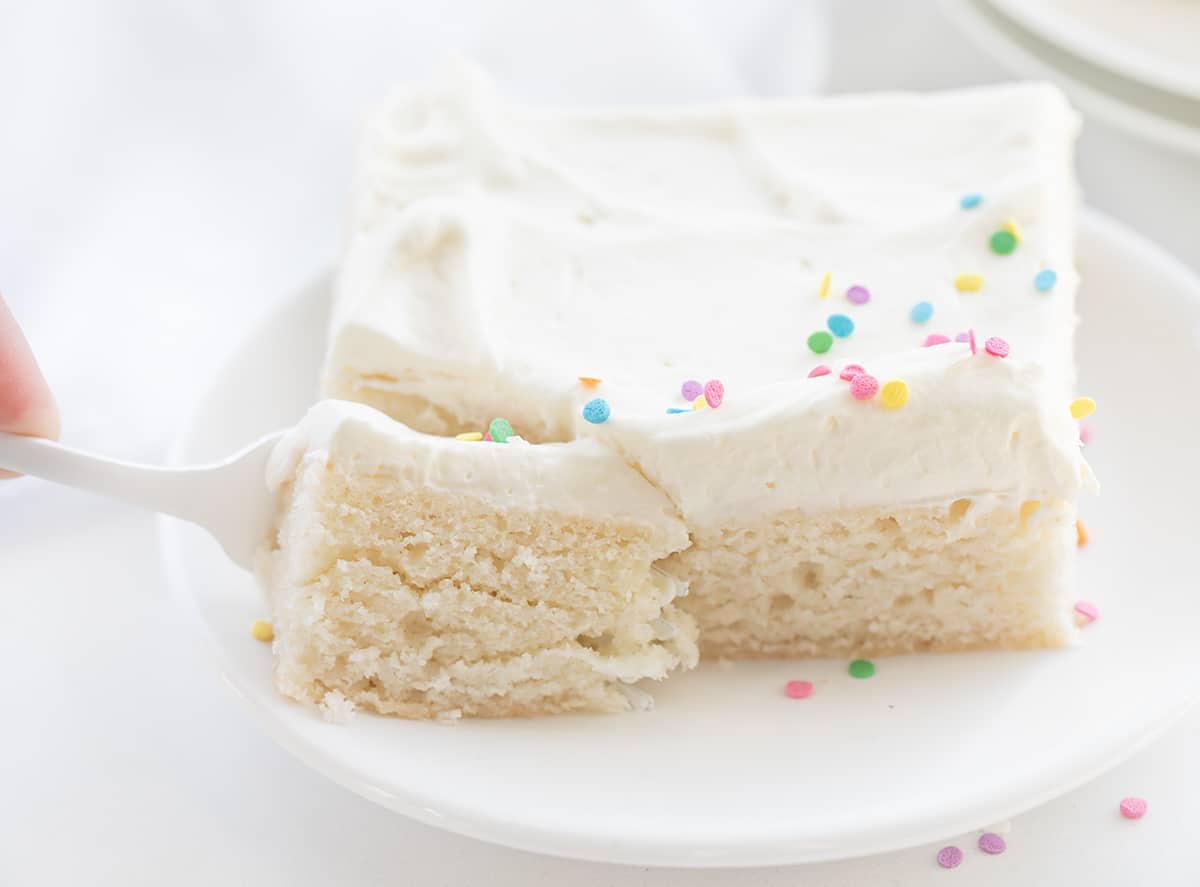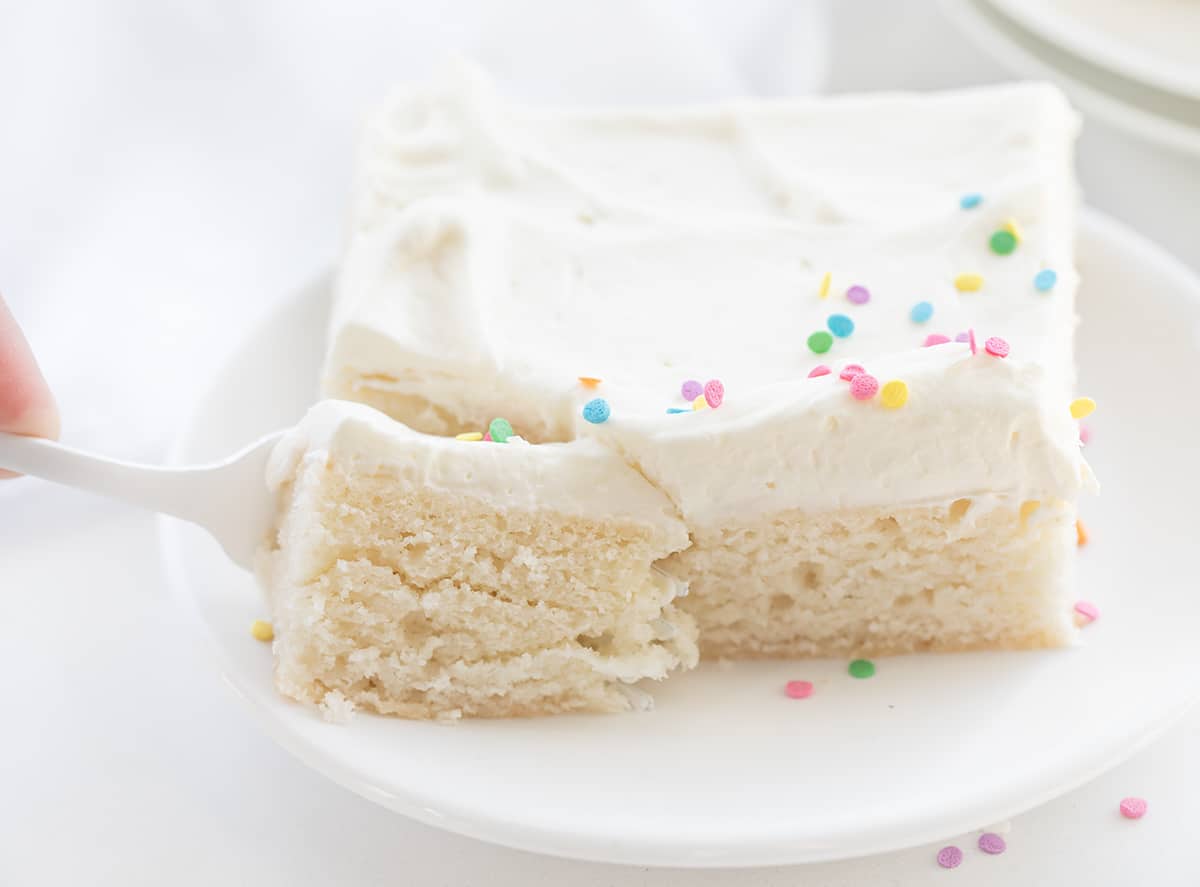 Can I Freeze Vanilla Cake?
Yes! In fact, baking, then freezing a cake is a great way to get a head start on your dessert, saving some stress! Before freezing the cake, be sure to let it cool completely. Next, wrap the cake in plastic wrap. Wrap it again in another layer of plastic wrap, aluminum foil, or in a freezer-safe bag. Label and date the packaging; the cake can be frozen for up to 2-3 months. When ready to decorate or enjoy, let the cake thaw at room temperature while still wrapped. After about 30 minutes, the cake will be ready to decorate.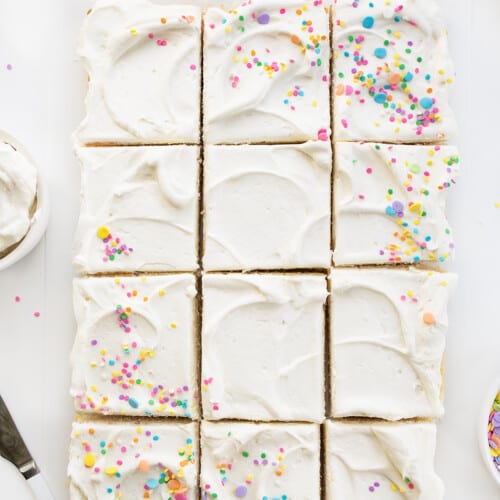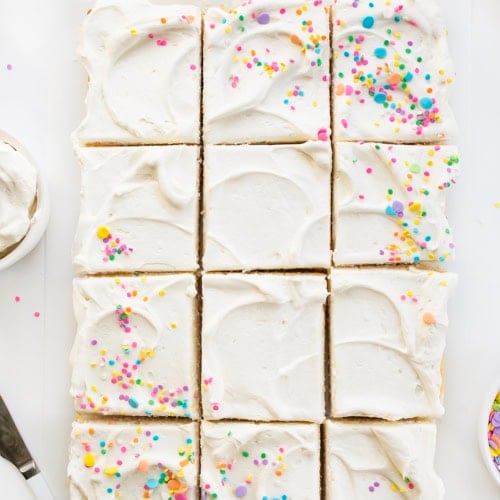 Vanilla Delight Cake (White Cake)
Vanilla Delight Cake is a moist and flavorful sheet cake that is delicious on its own or perfect for your favorite frostings and toppings.
Ingredients
2 ¾

cups

(275 g) cake flour

2

teaspoons

baking powder

¾

teaspoon

kosher salt

1

cup

(2 sticks / 227 g) unsalted butter,

room temperature

2 ½

cups

(500 g) granulated sugar

2

teaspoons

pure vanilla extract

1

teaspoon

almond extract

(can do as little as ½ teaspoon)

5

large

egg whites,

room temperature

1

cup

(225 g) whole milk,

room temperature
Instructions
Preheat the oven to 350°F. Line a 10×15-inch baking pan (jelly roll pan) with parchment paper up the sides.

In a large bowl, whisk together the cake flour, baking powder, and salt. Set aside.

In the bowl of a stand mixer with the paddle attachment, cream together butter, sugar, and both extracts until light and fluffy, about 5 minutes. Stop to scrape down the sides of the bowl as needed.

With the mixer on the lowest speed, carefully add in egg whites, one at a time, beating well after each addition, stopping to scrape down the sides of the bowl as needed.

With the mixer still on low, add ⅓ of the flour mixture into the creamed mixture, then half the milk, another third of the flour mixture, the remaining milk, and then the remaining flour mixture. Mix just until combined. Stop to scrape down the sides of the bowl as needed.

Pour the batter into the prepared pan and bake for 20-25 minutes, or until a toothpick inserted in the center comes out clean.

Allow the cake to cool completely on a wire rack.
Did you make this recipe?
Thank you for making my recipe! You took pictures, right? Well go ahead and post them on Instagram! Be sure to mention me @iambaker and use the hashtag #YouAreBaker.
What the Test Kitchen had to say about this recipe: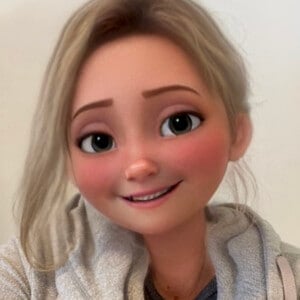 Autumn
Now this is a crowd-pleasing classic that is perfect for literally any occasion! It is light and fluffy, with a delicate crumb that just melts in your mouth. The vanilla flavor is subtle but distinct and pairs perfectly with the light and creamy topping.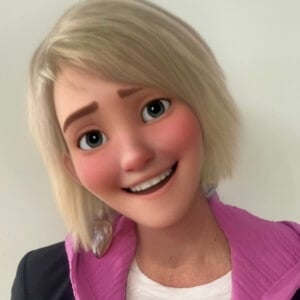 Elizabeth
This vanilla cake is so good that I could eat it as-is, no frosting needed! It's the perfect velvety cake with a fine crumb and excellent structure. It doesn't have to be my birthday to enjoy a piece of this cake!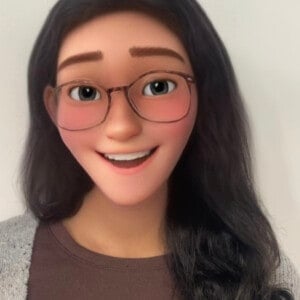 Bella
This cake is so soft and airy. It has a wonderful vanilla taste that isn't overwhelming. This cake pairs so well with the Sheet Pan Strawberry Shortcake recipe!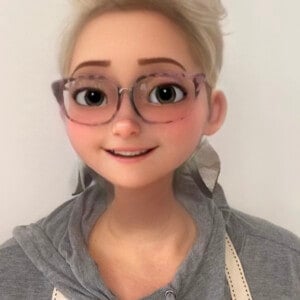 Selena
This vanilla cake is just perfect. It would be perfect for a craving or for a special occasion! This cake will be your go-to and is so versatile!